For Sid Sriram, music is not just an art form or even a career – it forms the basis of everything in his life. The Aikya 2018 star talks about his journey thus far, how he stays grounded in the face of colossal success, and what he is planning for the Aikya audience this year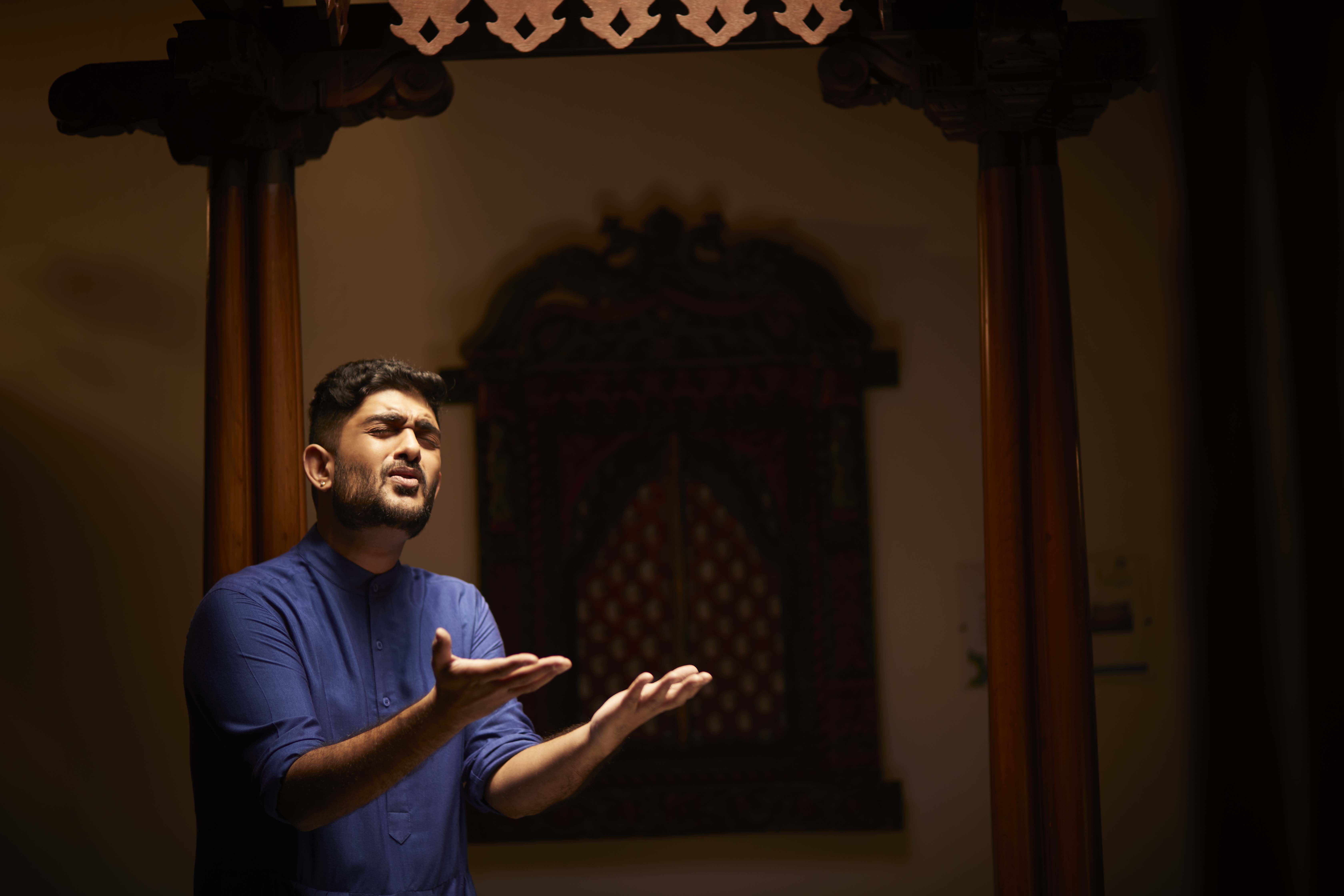 On December 31, 2015, a song titled 'Thalli Pogathey' with music by A.R. Rahman was aired. And went viral. With it, the singer suddenly shot to stardom in India and among the Indian diaspora. Sid Sriram became a household name. The young and not-so-young loved his voice. He was called by all the top music directors. He was given prime slots in the Chennai December Music Season. Tickets to his concerts were sold out. Put simply, success came in spades.
Today, he divides his time between Los Angeles and Chennai, wearing multiple hats and working (literally) on parallel tracks. "These are things I dreamt of when I was younger, even as recently as two or three years ago," he says in a matter-of-fact tone. Might I suggest he was lucky? "Ultimately, the onus is on the artistes to figure out how they are going to break the glass ceiling and make their way into whichever performing spaces they feel they deserve to be in," he responds after some thought. He adds that he has no secret formula for success. "The most effective and impactful thing an artiste can do is to stay the course and keep getting better. What is amazing about this day and age is that, with technology and the way it works, if you have content that deserves to be seen or heard, it will be seen or heard. And you can connect with people directly."
There is something sage-like about Sid. He is the polite, well-behaved person that every parent hopes his or her kid will grow up to be. His willingness to sing a song of your choice, off the bat, is endearing. He does this on stage, too, when the crowd screams for an encore – gently waving his co-artistes back to their positions and then announcing that he is happy to do a couple of "bonus tracks".
He is very articulate and enunciates his thoughts carefully, but gives away little about his personal life. I find this to be a bit conservative, to which, he responds, "The sanctity that comes from privacy is really important for an artiste to be able to feel comfortable in the art, to have that space away from being in the public eye. It is also important for an artiste to not get carried away with the attention. I like to keep my personal life personal. I am blessed to have a fan-base that respects that."
But what about the dopamine hits that comes from the million 'likes' on his Facebook page and 'hearts' that dominate his Instagram? Has he ever been drawn into the black hole of social media addiction? "It is easy to obsess over social media," he admits. "I have had my times, especially when I was younger, where I would get online more than I possibly needed to…Dedicating yourself to an art form or to anything else requires a great level of mental discipline, and discipline in general. If you always have the greater goal in mind – for me, that happens to be this contribution to music – you will know when to pull yourself away from it. As an individual, how you brand yourself is important, but there's definitely a limit to the amount of attention you need to give to social media."
Throughout our conversation, he keeps using the term 'younger' when referring to his journey in the music space. When I jokingly exclaim that he is still young, he explains that he refers to the time he was in high school and, even more recently, before his explosive success as his "younger days". He adds, "I demarcate the time before and after 'Thalli Pogathey' came out." He insists that there is much more for him to do. For one, he hopes to perform with Ustad Zakir Hussain sometime. And with Stevie Wonder, too. He adds that, if time could be turned around, he would love to share a stage with Nina Simone, the jazz pianist and singer (who died in 2003).
Sid was born in Chennai but grew up in San Francisco, where his family moved to when he was a year old. His grandfather was a musician; his mother is a Carnatic vocalist who runs a famed music school in the Bay Area. So, music was an elemental part of his life. He began singing and performing at the age of three. "Subconsciously and very intuitively, it built my musical, artistic and creative framework…of how I approached everything. At different points of personal confusion, I would dig deep within music and find some clarity through that."
He was also exposed to the work of Indian music directors like Ilayaraaja and A.R. Rahman, and picked up R&B along the way. While he was a student at the Berklee College of Music. While he was studying there, he sent A.R. Rahman an e-mail with a recording of his singing. A recording followed, and the rest – well, you know the rest.
Performing is in his blood. "I have always been a natural performer; stage is a place that I love to be in." Shows apart, he has been singing in the Chennai December Music Season since 2005, and has been witness to not only his own growth but also a positive shift in terms of how it is drawing people from diverse backgrounds. "In the last December season, it was exciting to see a wide demographic from young to older people, and folks that never listened to Carnatic music before, coming and packing up these auditoriums and staying for the entirety of the concert.It was great!"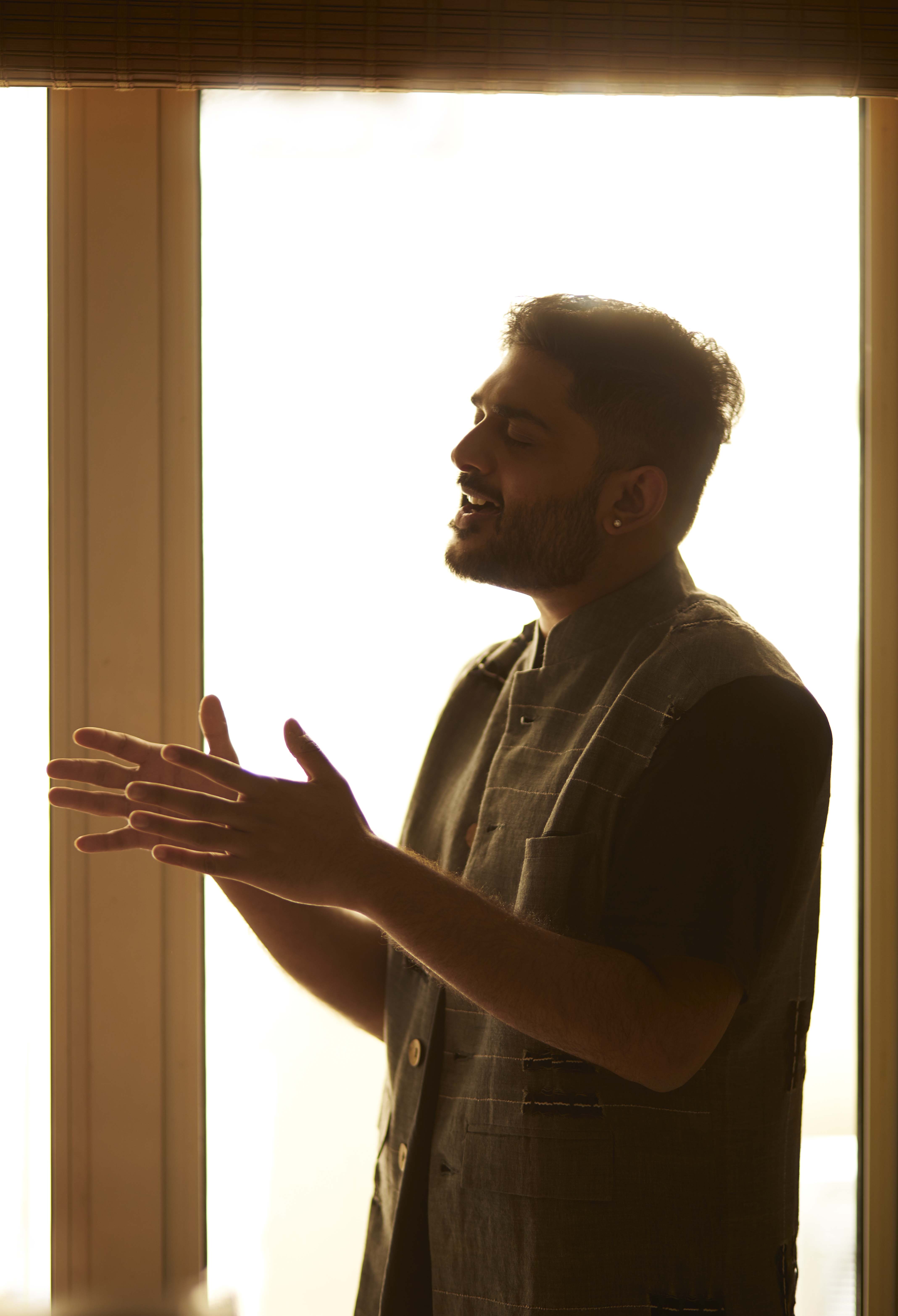 I wonder how his family and friends react to his fame and popularity. "I happen to have some really great people around me. They constantly remind me that even though I am a performer and in some ways a celebrity, there is also day-to-day stuff I got to do around the house. That I am no more special than the person next to me on the street just because I am singing and people recognise me at times." That, however, is not the only factor in keeping him grounded and humble. "I had my battle with hubris when I was younger. I had my fall from grace, when I was quite arrogant, when I was in sixth and seventh grade. I got a reality check when I wasn't putting in the amount of work I needed to put into the music. This was especially true with Carnatic music. Even though that was a long time ago, a lot of the stuff I went through in that period has stuck with me.
"I also realised that, at any point, if I lose humility, the first thing that gets impacted is the music. When I am performing a Carnatic concert, I require a huge amount of mental fortitude and focus. The second I get impressed with myself for singing one part, the next verse goes for a toss. So, there is no time to get satisfied because what it is going to do is keep me from moving forward."
Given how he is involved in practically every part of his performance, on and off stage, I ask him about his upcoming concert in Aikya 2018 – the "next big thing" in his radar. "I am getting into the curating of the programme, and it is a big – BIG – production that I want to put on! This will be completely different from anything I have conceptualised and put together in the past.
The Aikya team wanted to musically portray Rama's leadership qualities, and it resonates with me deeply. I am working on this keeping in mind the eight-year legacy of class and substance that Aikya has been known for." The theme of this year's concert touches on the deeper facets of what makes for a good leader. And we delve into the Ramayana to draw out the fine threads of wisdom that may be woven into our own lives. It is interesting to note that there were several worthy kings other than Rama in the epic – such as Dasharatha, Janaka, Bharata, Sugriva and Vibhishana. However, even today, we regard Rama as the model king and use the term 'Rama rajya' to describe ideal governance – regardless of the age, polity and governance system we may be part of. What was the basis of his kingship that made him a worthy example for all time? Can we capture the essence of his leadership traits and inculcate it? This is the question Aikya 2018 will explore through a musical journey.
Sid, who is working on translating this amorphous concept into a "visual and physical experience", says his aim is to "take the audience on a journey that really touches on these different facets of Rama, and inspire different emotional textures through sound and movement and everything else."
I find it intriguing that an idea can be translated into music. How does he work on something like this? "While talking about it, I am hypersensitive to the emotions that are being inspired, and then retain those emotions or store them away in my memory so that I can reference it and see how best these emotions can be expressed. I think about the set of songs and sounds – what can most impactfully articulate these emotions in such a way that the audience is able to feel them. Hopefully, it resonates with them on some level, and gives them a holistic understanding of how I have taken the concept and internalised it – and then allow them to internalise it in their own way. It requires a lot of thinking – but, that's what is most exciting – taking something like this and building it is ultimately emotionally relatable."
Sid's performances are not just about vocals. There is the crossover between classical Indian and Western rock at many points. He likes to read poetry in between songs ("I should probably tell people next time that I write this stuff!"); he mixes in video clips and visual graphics; his sister and Bharatanatyam dancer, Dr. Pallavi Sriram, performs alongside for some pieces. It is like a sensory explosion; I am curious as to whether there is a name for this eclectic mix of elements.
"I don't have a name for this format," he says. "If I had to, it would be 'immersive art'. The goal of this is to create and provide an experience that envelopes the viewer and listener, and provides an experience where they feel that, for the duration of the time they are in the performance space, they have been transported to another world…where they would, you know, almost take a step into my head."
As a sign off, I ask him about his thoughts on the upcoming generation of musicians. "There is so much talent to be tapped into among the younger generation, and there are more opportunities now to be recognised and groomed. Rahul Vellal, who is going to be part of Aikya 2018, is a prime example of this and I am looking forward to working with him."
Budding Talent
Rahul Vellal was just two years old when he began to identify songs and hum along to them. His parents, Hema and Ravishankar, noticed his interest in music. "We approached several teachers, but many of them refused to take him on as he was quite young. So, he started learning at the age of four," says Hema.
When Rahul was around six years old, he gave his first performance – a half-hour slot at an annual concert organised by his teacher. His second concert was even more memorable – wherein he sang devotional songs for one-and-a-half hours. "He was seven years then and was part of a performance held in a temple here in Bangalore. He handled it independently with the musicians on the stage," says Ravishankar. "There was no rehearsal or training of how to coordinate with the co-artistes. He had no printed lyrics; all that he had was the list of songs that he was to sing," Hema adds.
The 75-strong audience was spellbound by the little boy's singing, and Rahul was on his way to creating a niche for himself as a child musician. "I love to perform and I enjoy learning new things," he says. He recently performed in Abu Dhabi – his first performance outside of India. What else did he do while in the Emirate? He went to Ferrari World, he says. So, is he interested in cars? Yes, and adds that his favourites are "Bugatti Veyron, Ferrari and Lamborghini".
Currently a fifth-grade student in Carmel School in Bengaluru, Rahul is being trained as a vocalist. He is also learning mridangam and piano. Stage performances and recordings (video and audio) are also part of his schedule. Is it a lot to handle? "I have arranged different times for studies and music. So, I don't find it difficult," he says. His parents are a big source of support. "I saw his interest in music and learning various things in music…And Rahul was very serious about it. So, I quit my job and am now with him all the time, taking him to the classes and other places," says Hema.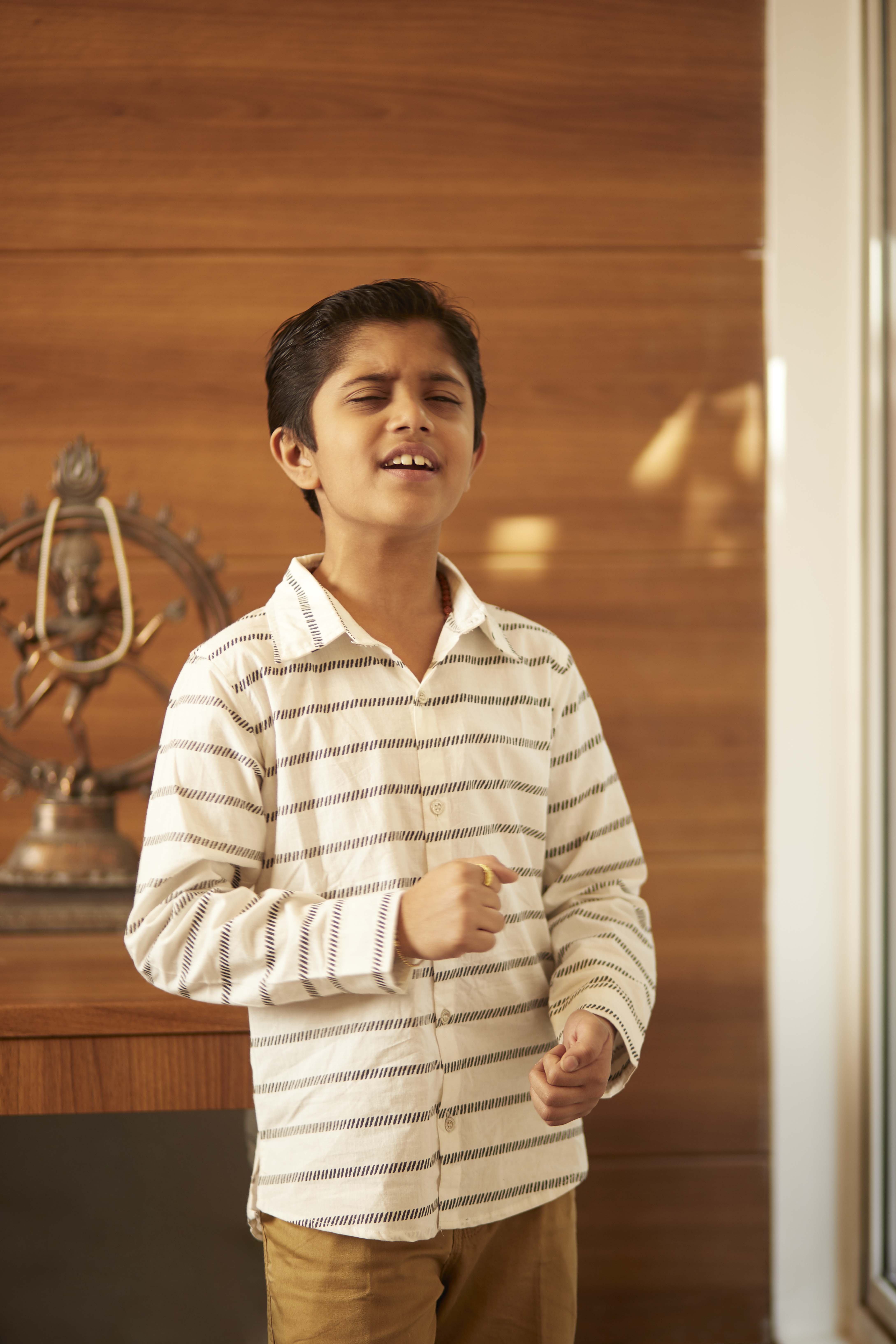 One Day at a Time
With regular performances and recordings coming his way, Rahul is clearly in the public eye. However, he does not say much about his newfound fame. His parents manage his online presence and act as gatekeepers to shield him from excessive and unnecessary attention. "We want him to enjoy the music and experience it in its purest form," says Ravishankar. Hema adds that, by nature, Rahul is oblivious to praise or appreciation. "He does not even tell me what people told him or what happened. He just forgets it that moment, and concentrates on what he is doing. I am very happy that he is this way," she explains.
Rahul and his parents are excited about his participation in Aikya 2018. "I am really looking forward to performing in Aikya, especially with Sid anna ('anna' means older brother, and is used as a sign of respect). I am sure it is will be a wonderful learning opportunity for me," says Rahul. "We are very thankful to the Aikya team who wanted to include Rahul as part of this production," adds Hema.