Who would have thought that a temple town hides within its recesses a tradition of amorous seduction, aided by aphrodisiacal perfumes and foods? Read on, and see Madurai in a new light – Devanshi Modi
Valentine's Day. A curious observance that makes February the month of love. Nevertheless, it furnishes an excuse to explore the romantic facets of India, which is, after all, the land of the Kama Sutra. But not only. The love labyrinth of India ramifies beyond that.
Would you have imagined that Madurai, stereotyped as the 'Temple City', and nothing more, is a hive of pulsating seductions? Indeed, Madurai's people contend that the romance of their fish-eyed goddess Meenakshi (Parvati) and her consort Sundareshwara (Shiva) is the greatest love story ever told. Except that it is hardly ever told. From its tantalising goddess and temples with sculpted enticements to its hypnotic jasmine and poetry of passion, Madurai is a heaving throb of amorous exuberance.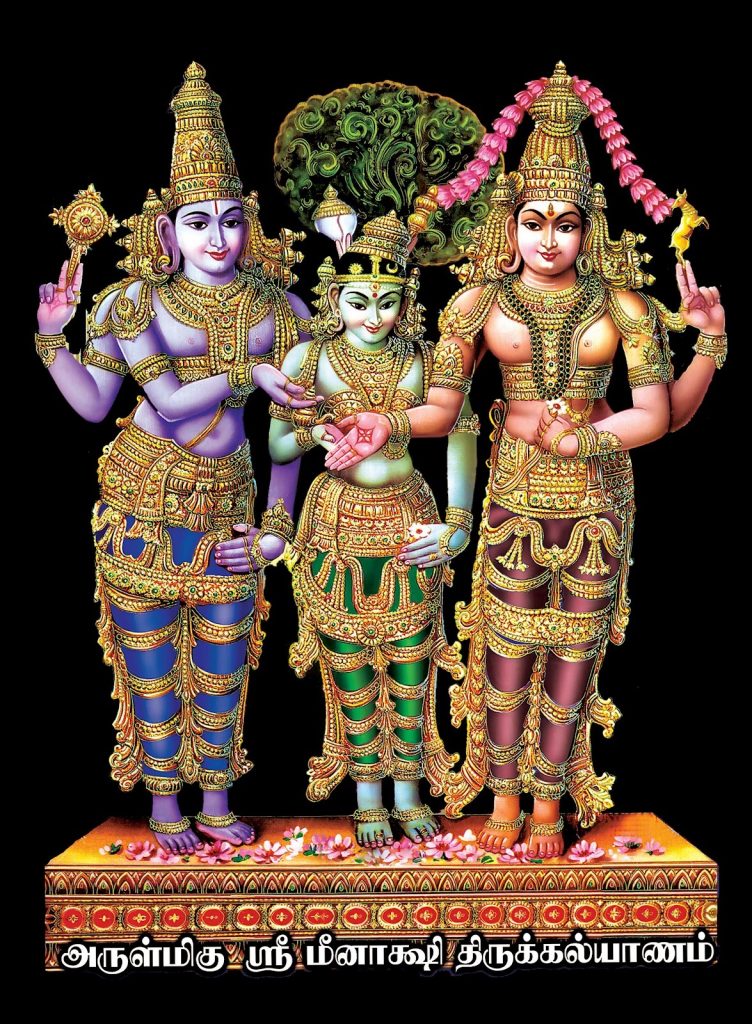 I have frequently visited Madurai's fabled Meenakshi Temple but was never intimated of the goddess' love story, until I chanced upon Rukmini Thiagarajan, Managing Director at The Heritage Madurai. Meenakshi, daughter of Madurai's Pandya king, unfurled out of a fire pit. During this fiery genesis, it was presaged that her congenital third breast would vanish when she encountered the man worthy of her. Succeeding her father, Meenakshi embarked on a conquest, vanquishing kings and gods. En route, she chanced upon on a young hermit. Their eyes met; Meenakshi realised she was Parvati incarnate. Her third breast disappeared, and she took the hermit, now named Sundareshwara ('Beautiful Lord'), to Madurai to be her consort.
Meenakshi bears a parrot symbolising Kama, God of Love. A dagger like a small tusk thrusts out from her girded waist signifying her supremacy. Shiva might be Lord of the Cosmos, but the ravishing goddess reigns here. Remarkably, the sculpted pillar depicting her marriage portrays her receiving the groom's hand, defying convention where the groom receives the bride's hand. Shiva is even consigned to a smaller shrine. From here, his utsava murti (idol taken out on processions) makes its nightly pilgrimage on a palanquin in a musical procession to the Goddess's intimate chamber. Ushered in with flowers, he is placed on a swing beside Meenakshi's utsava murti. In this mirrored bower, with an opulence of intoxicating jasmine, the temptress passes the night in adoration of her amour. The Lord of the Cosmos is still the Lord of the Conjugal Chamber, even the mighty Meenakshi must concede… These unfaltering nightly nuptials resolutely establish why Meenakshi's and Sundareshwara's is the grandest of all love affairs. Romance is not restricted to the Meenakshi Temple alone. Legend has it that Parvati's younger son, Murugan, valorously slew the demon Surapadman to rescue Indra, God of Heaven, whose daughter Deivanai he gained as booty and married at the magnificent rock-hewn cave temple at Thiruparankundram, one of the six abodes of Murugan, where lofty pillars surge with the fervid entwinement of love-making couples. Some of these splendid erotic sculptures are, alas, smeared by sandal paste spread by devotees who believe that the practice will procure them a mate.
Madurai was supposedly conceived in the redolent womb of a kadamba forest. Given such poetic origins, unsurprisingly Madurai held the first convention of Tamil poets, Sangam, 2,000 years ago. Even its river Vaigai is romanced in a Sangam poem that arouses the masculine vigour of the waters that traverse across Madurai. Onto the river coy damsels come to frolic, mesmerising the helpless youth who prostrate before their feminine wiles.
Legendary architect Geoffrey Bawah brings architectural poetry, conveying the city's spiritual and the sensual aspects playing on the temple-pond pool at The Heritage Madurai – the main spartan pool captures the Temple City's sacred aura whilst villas with miniature private temple-pond pools have allure.
Heritage Madurai's MD Rukmini is interested when I say I am investigating the Temple City's romantic potential. "That's an exciting angle," she exclaims. "Why doesn't anyone write about it?" She agrees that romance inheres in Madurai and swiftly conjures jasmine farms at dawn, dewy and exhaling the entrancing fragrance of the flower that goes into the world's most famous perfume, Chanel No 5. Whilst Chanel claims they cultivate jasmines in southern France, one believes that the distinctive Madurai jasmine creeps its way into the scent bottle. Madurai's famous Flower Market is an exhilarating carnival of colour and fragrance, but it is the immaculate white jasmine that enmeshes with its sharp and sweet scent.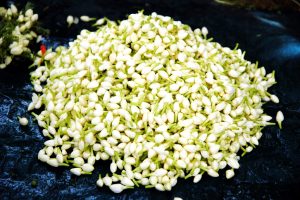 Rukmini, having expatiated on the aphrodisiacal endowments of foods associated with Madurai, curates for me a menu with love-inducing ingredients from the city's flower and spice markets. A candlelit dinner amidst a profusion of jasmine and roses follows. Heralding hymeneal rapture is jasmine-infused water, where one kilogram of jasmine goes into a single glass of this love potion. There is also a thrillingly spiced and honeyed tea concoction. This is followed by a thali. On it lies a golden roll of masala dosa. I am unsure what is aphrodisiacal about a masala dosa other than that it reminds of Cleopatra presenting herself to Caesar, all carpeted and captivating. There is also spice-laden purple rice payasam. Spices are reputed stimulants, but Rukmini elucidates that in Madurai purple rice, originally from Burma, has exotic and erotic associations. We finish with the Madurai specialty, jigarthanda. There is no ambiguity about its love-giving potency. Everyone who drinks this most hedonistic of drinks incorporating almond paste and rose water is instantly enamoured, if not with the object of pursuits then with the drink itself.
Love offerings in Madurai have assumed an unprecedented flavour, I realise on stumbling upon an astonishing discovery. Puppy (aka Vichitra Raja Singha) has youth and imagination and has Madurai eating their hearts out at her new ice-cream parlour, Puppy's. Appositely, Puppy acquired renown by supplying fairytale wedding cakes to local top-shots. Then, Chennai's Casanovas dispatched their lackeys to Madurai to fetch Puppy's celebrated cheesecake as a love token when they proposed amidst pomp and sensation at top hotels. And you would think love and cheesecake are disparate as chalk and cheese…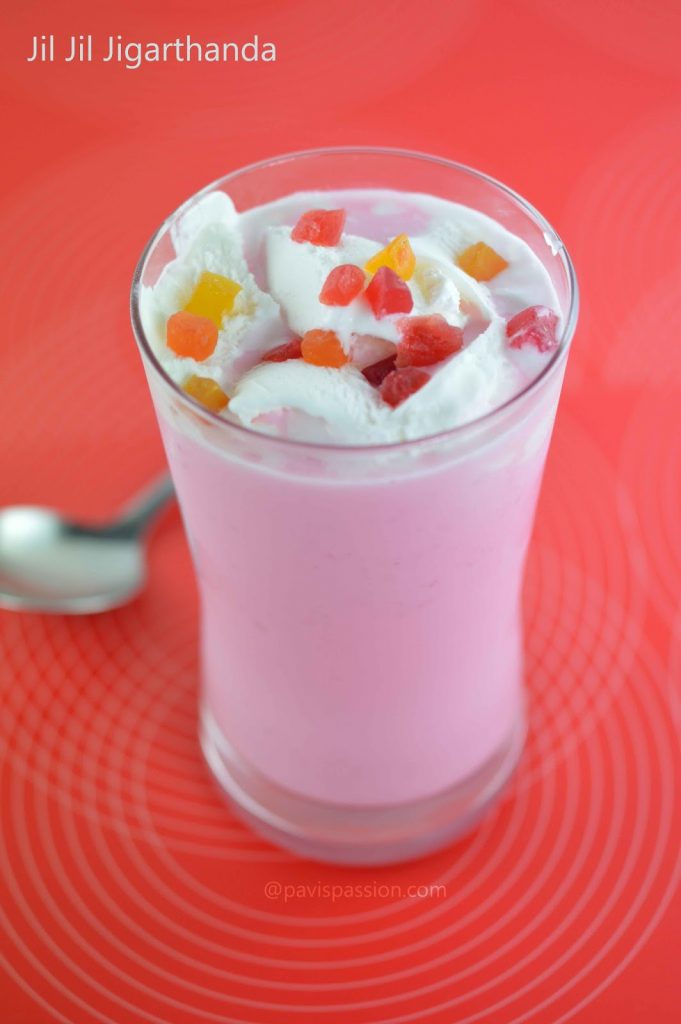 It is all about 'melting moments', literally, Puppy's aphrodisiacal ice creams prove. Fig & Honey, voluptuous with figs from the Madurai spice market, honey-roasted to attain that dusky love-inducing flavour, resonates with the Biblical aphrodisiacal notoriety of figs. Chocolate was an aphrodisiac from its conception in Mayan times, but Puppy's dense Belgian chocolate pop is more debauch than a Roman orgy. Did you know that vanilla, too, incites love? Puppy marries two different vanilla beans that rev up the romantic drive, whilst traditional palkova turned into a lavish ice cream enhances love-handles. But it is the rose and pistachio kulfi, like a stroll through an enchanted Persian garden, which has the smooth sensuality of Persian poetry. It is as if you are whisked on a silken magic carpet to some far-away amorous realm. But who would leave Madurai when there is passion in every pillar of its temples and quivering petal of its jasmines?