Short cultural snippets for an easily digestible India
Art/textile/craft: Bhujodi Weave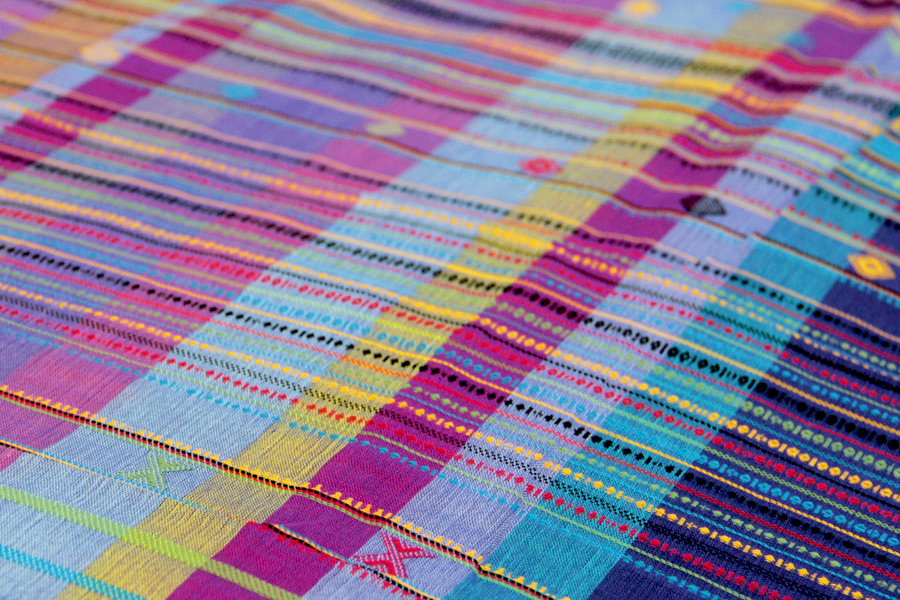 The village of Bhujodi in the Kutch region of Gujarat has given its name to a hand-spun weave that developed as part of a barter system between neighbouring communities. Nomads and herders provided milk and fleeces to the village in exchange for blankets and other textiles made from the wool of the fleeces to protect them against the cold. To this day, the Vankars of Bhujodi weave cotton and woollen shawls, stoles, carpets and furnishing materials using traditional pit and shuttle looms. The wool (which nowadays may come from as far away as New Zealand) is spun by hand using a wooden turning machine. The yarn for the warp thread is twisted and starched to coarsen the threads before they are attached, or 'pieced', to the loom. The finer weft yarn is dyed using either vegetable or chemical dyes, dipped in diluted sulphuric acid to fix the colour and then rolled onto bobbins ready for weaving. Bhujodi weaves are distinguished by their intricate textured patterns and geometric designs, and the Vankars run seminars and help train young weavers and design students.
Words: Dhobi and Istri
Dhobi has long been used colloquially throughout India as the word for a washerman, someone who earns a living by washing clothes. Dhobis provide services to almost all parts of semi-urban and urban India. Some of them work on an industrial scale as part of a large, structured group, sorting, checking and washing clothes and linen, drying, ironing and packaging them to be returned to their owners. Mumbai's Dhobi Ghat, the biggest open-air laundry in the world, employs 7,000 dhobis who wash over 100,000 items a day in a vast maze of concrete pens. Others work individually, relying on household customers. 'Dhobi' found its way into the Hobson-Jobson Anglo-Indian Dictionary in 1886. The dictionary is sub-titled 'a spice-box of etymological curiosities'; yet, dhobi derives quite simply from the Hindi word dhob, the noun meaning a laundry or batch of clothes sent to or from a launderer. In a wider sense, Dhobi is the name of the specific community of approximately 400,000 people whose traditional occupation this is. Hobson-Jobson does not list the word istri, which is often used alongside dhobi. Istri is the noun for an iron, and istri karna means to iron, to smooth or press. The istri wallah is a common sight on India's pavements, plying his trade from a cart under a shady tree or awning.
Name: Dinesh Karthik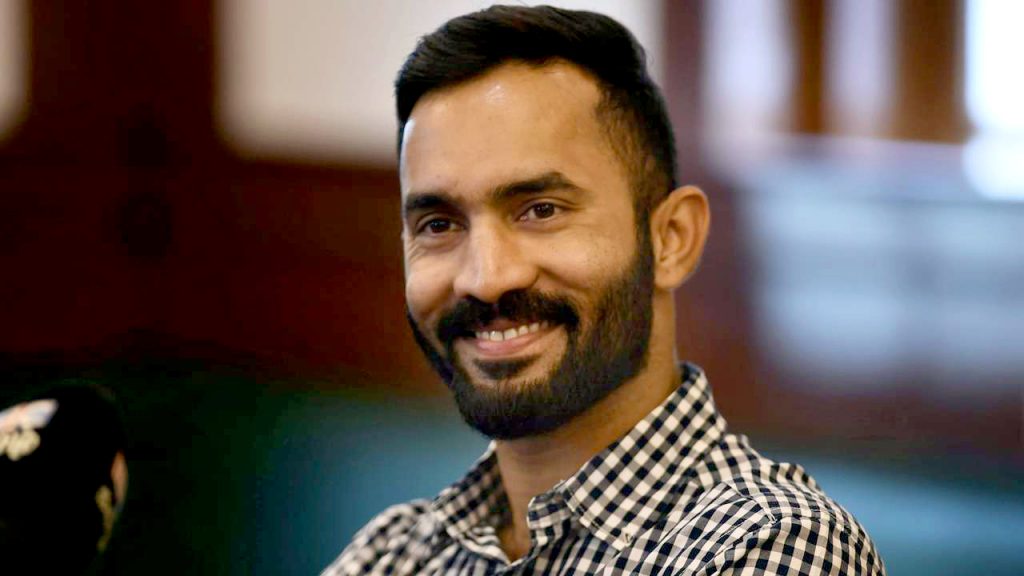 Dinesh Karthik is a wicket-keeper and batsman who is described as a giant of the domestic game in India. Karthik was born in Chennai in 1985. His father was a cricketer whose career had been sidelined because his parents wished him to put his education first. Consequently, he encouraged his son from an early age. As a batsman, Karthik rose through the junior ranks. He made his debut for Tamil Nadu when only 17, and by 19 had attracted much attention with some high-scoring innings. However, his form dropped and he turned to wicket-keeping. He made his debut for India in a one-day international in 2004, agilely stumping England's top scorer Michael Vaughan. His international career coincided with that of M.S. Dhoni, one of the best wicket-keepers in world cricket, but despite some notable highlights it never really took off. Karthik has, however, been recalled to international cricket when other players have been injured or rested. In March, he spectacularly revived India's final innings against Bangladesh, scoring 29 in the final two overs and hitting a six off the last ball that clinched the tournament and has made him a sudden superstar. Karthik joined the then newly formed Indian Premier League in 2008 playing as wicket-keeper for the Delhi Daredevils, but his best spell came when he transferred to the Mumbai Indians in 2012, batting and wicket-keeping in all their matches as they won their first IPL trophy. To date he has played 152 matches in the IPL, scored nearly 3,000 runs, and, by 2016, had the most dismissals as a wicket-keeper in the IPL. In the 2018 IPL season, Karthik is captain of the Kolkata Knight Riders.
Food and Drink: Chahou Kheer
Kheer is the generic name for any kind of rice pudding made with rice, milk and sugar, and it is popular across India. In Manipur in north-eastern India, chahou kheer is made using a variety of indigenous black rice called chak-hao, the grains of which are a deep black colour, but which turn purple when cooked. Black rice is heavier in texture than other varieties of rice, but is rich and sweet and its nutty flavour makes it suitable for desserts. To make chahou kheer, the rice is soaked and added to boiling milk with sugar, covered and simmered for about 10 minutes. Raisins, cashew nuts and grated coconut are stirred through and the rice is ready for serving immediately. No Manipur celebration is complete without a serving of chahou kheer, and nutritionists are discovering that black rice has numerous health benefits.