Over the past decade, Kidambi Srikanth has become one of the more sought-after badminton players from India. Srikanth has received several prestigious awards including the Padma Shri and the Arjuna Award. Meera J Pillai caught up with the athlete for a tete-a-tete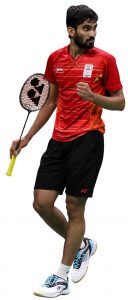 In April 2018, when Kidambi Srikanth was ranked World Number 1 in the Badminton World Federation (BWF) rankings, the whole world took notice of this young athlete from India. Under the guidance of legendary badminton player Pullela Gopichand, Srikanth has become a champion player. Today, he is considered among the top athletes from India.
Srikanth recalls his first tryst with the sport when he fell in love with badminton, "My very first memory is watching the All England match of 2001, Gopi sir's final. That was the first time I saw a match live on television."
Through his journey he credits several people for inspiring him to give his best. "First is Gopi sir, for what he has done for badminton in India, second is Mahendra Singh Dhoni, who is one of the best Indian captains because of his cool demeanour and ability to take the right decisions under pressure. And, third is Roger Federer for the longevity he has had in the sport."
Putting in effort every day is his number one priority. On an average, Srikanth spends about 5 to 6 hours training every weekday and bettering himself. It is all about giving it his personal best at every tournament. "It is very simple – train hard and play better each time. I strive to play my finest in every competition, but there are a few things that you can't really control." Even when it comes to relaxing, Srikanth takes off only on Sundays, when he sleeps, eats and spends quality time with family and friends.
Unlike a decade ago, various sports have gained considerable momentum, with more students taking it up as a full-time career. Srikanth believes that it is because of the support from the higher authorities and fellow athletes. "I personally think that every sport in India is slowly improving. The credit goes to the national federations, the Sports Authority of India and the Ministry of Sports, who are supporting the athletes in a big way. If the same kind of support continues, we are going to see much better results in every sport in the coming years," he adds.
Srikant has a strong support system, whom he credits for keeping him grounded. "The advantage I have is that my family and close friends don't react so much to the ups and downs I face in the game. They always stay calm and treat me the same whether I am winning or losing. I am lucky to have that kind of support."
Thanks to him and the likes of Saina Nehwal and PV Sindhu, badminton has become a popular sport in the country among the youngsters. Srikanth says that if an athlete is passionate about a sport, they must work hard and pursue it. "For all young athletes, it is really important to love the sport that you are playing. If you sincerely work hard, you will find success and will be able to perform at the highest level," he says proudly.
Rapid Fire
Sporting idol: M.S. Dhoni and Roger Federer
Cheat meal: Biryani
Movie: Telugu movies
Place: If I get time, I always want to go back home and chill out.
Photo Credit : Abdul Razak Latif, Hafiz Johari