She came to India with an open heart, and the country did not disappoint French citizen Delphine Delaoutre. From discovering the unique culture, tasting new cuisines, to getting up close and personal with the people, Delphine thoroughly immersed herself in the local traditions. Team Culturama caught up with Delphine about her life in India
Your First Impression
My first point of contact with India when I came over for my discovery trip was a company driver. His name was Baskar, and he showed me all the amazing places that made me appreciate his country and his town. He was proud of his country as well as very anxious to make me love it. That was such a nice experience.
Expectation versus Reality
Before my visit, I was very anxious about India but at the same impressed and maybe a little scared too. I knew India was very different from any country I had hitherto seen. I saw India as a huge complex mountain in front of me, nearly unreachable.
Now that I know India a little more, I can confirm that it is so very different from any other country, and the culture is totally unique. It has taken me a while to understand the way of living and how to approach the culture, but it is not unreachable at all…. And this has been thanks to the people! The people are welcoming, friendly and so happy to make you discover their culture!
Food Adventures
A whole new world opened before me when I discovered Indian food. The tastes and smells were totally new. The funny thing is that food is one of the first questions that Indian people have asked me about: "Do you like Tamil food?" Food is very important here in India. The most striking thing about Indian food for me is the generous amount of spices and sugar used in every meal. But little by little, I got used to the spicy food and I am starting to appreciate it. But super sweet dishes are still a challenge!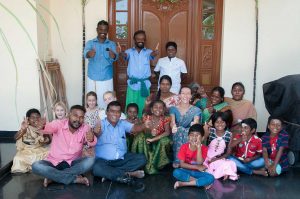 Festivities in the Air
I am very fond of experiencing new cultures and traditions. In India, there is no dearth of festivals. I tried to experience almost every festival such as Pongal, Diwali, Ayudha Pooja, Karthigai Deepam and many more. We enjoyed them a lot. Our drivers, housemaid and watchman are very happy to make us a part of these festivals, so we have been observing these festivals every year with them.
I have been part of other celebrations and poojas too, including traditional weddings, valaikappu, kadhukuthu vizha, manjal neerattuu vizha, and so on. It is always an immersion into an incredible culture made up of so many traditions.
What amazes me each time is the pride and happiness of Indians to share their culture and traditions with strangers, always with kindness and infinite generosity.
Entertainment Corner
Again, the culture is so wide that there are so many things to discover: Carnatic music, Bharatanatyam, Yoga, Ayurvedic medicine, diverse languages such as Hindi, Tamil, Sanskrit, and so on. Then there are so many historical spots to see, discover Nature, surfing, and so much more.
Travelling through India
I have tried to discover as many places as possible. Actually, it is quite easy to travel. Internal flights are quite inexpensive, it is easy to get a booking in guest houses or hotels, and there is always someone who speaks English to help you.
Obvious dislikes
Poverty and the lack of environmental responsibility
Souvenir from India
I would take back so many things, it is very difficult to choose. Maybe the happiness of the people and their relaxed attitude, and the special Indian head shake. I love them all!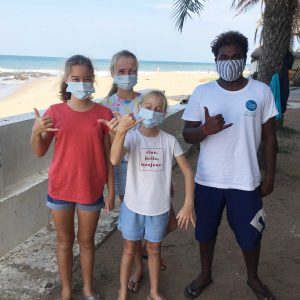 Quick 5:
Best Indian friend: Malini
Favourite Indian food: I am crazy about appalam.
Favourite hang-out spot in India: Surf Turf
Intolerable India: Pollution
Loveable India: The people