When Indian freestyle wrestler Ravi Kumar Dahiya won the silver medal at the 2021 Tokyo Olympics, a proud nation cheered his achievement. This prestigious medal tops his other glorious wins including the 2019 bronze medal at World Wrestling Championship and the two-time Asian Wrestling Championships. Meera J Pillai caught up with the star athlete after his incredible win at the recently concluded Tokyo Olympics.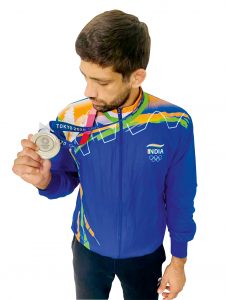 What made you take up wrestling as a career?
Wrestling is a big sport from where I come. A lot of kids used to train at the Hansraj Brahmachari Akhada in my village, Nahari. And that's where I started my kushti (wrestling) as well. I enjoyed the sport thoroughly every day, and eventually I knew I wanted to pursue it seriously. I wanted to become a kushti pehelwan (wrestler).
How have your family and friends taken to your journey as an athlete?
Their support has been tremendous. They have been very encouraging not only during the Olympics but from the first time I represented India in wrestling.
What is your take on Indian sports?
Indian sports is changing, and moving in the right direction. Our athletes are doing very well in multiple sports, and I feel that even fans are enjoying and following multiple sports. Wrestling's popularity has also grown exponentially and it has now become an integral part of the pop-culture. Initially, in most parts of India, sports were not considered as a full-time career option but now the mentality is changing gradually. These days, parents are looking at sports as a serious career option for their children, which is a good sign. Only this way will we grow from the grassroots.
How many hours do you spend on training a day?
At least 6 to 8 hours a day training on a regular basis.
When did your Olympics dream start?
Right from the day I started wrestling and joined up for training at the Chhatrasal Stadium (New Delhi), I wanted to represent my country in the Olympics and win a medal.
How do you prepare mentally for a game at such a big stage?
All games are big for me. Be it a national event, an Asian championship, or an Olympic game, everything is equally important. I prepare with equal zeal for all matches. I don't let a big tournament's pressure get to me.
What has been your greatest challenge through your career?
There have been many challenges, but the biggest, according to me, was my comeback after my injury and winning the silver in the U23 World Championship.
When not training, how do you unwind?
I hang out with friends, spend time with my family and enjoy playing basketball.
How was your experience at the Tokyo Olympics?
Initially I was dissatisfied as I went there with only one goal in mind, to win the gold for our country. But it was a learning process and I am happy to have won the silver medal. We worked very hard through our journey to the Olympics, and winning the silver for my country has also given me a reason to keep moving forward and fight for the gold in the upcoming games.
Can you share the most memorable moment after winning the silver medal?
My most memorable moment so far is the love and appreciation I received from everyone after I came back to India. The welcome I received at the airport was unreal. As an athlete, you get fired up to win more medals for your country. The support and love are key motivators, which drives us to push even harder. I would like to again take this opportunity to thank everyone, every single person for all the blessings, support and love they have given me throughout my journey so far.
You recently met Prime Minister Narendra Modi. Was there any advice or takeaway from the meeting?
It was such an honour to meet him. He has always motivated and supported athletes and has been encouraging young kids to take up sports. I was really humbled to meet him. Truly respect him.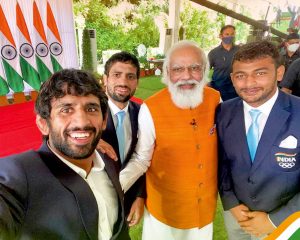 Can you share the best advice you have ever got?
Stay grounded and be loyal to everyone who has been with you in your journey.
What does your future look like?
Wrestling, wrestling and more wrestling!
What is your advice for youngsters who aspire to be sportspersons?
My advice for everyone is to play sports. Any sport of your choice; even if not on a professional level but just for mental and physical fitness. If you aspire to become a professional sportsperson, then you need three things at all times – discipline, perseverance and a positive attitude.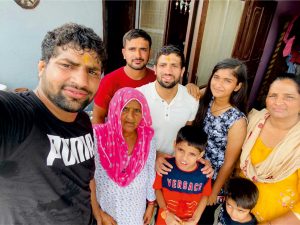 Rapid Fire:
Sporting idol: Sushil Kumar
Your cheat meal: Home-made food made by my mother … super yum and butterlicious!
Favourite song: Vande Mataram (AR Rahman)
Favourite movie: Baby (Akshay Kumar)
Your favourite place in the world: India