Sweets hold a place of immense importance in Indians' lives. So much so that when there is good news, we reach for something sweet, mithai, first. If there is no sweet around, at least a small bite of sugar is proffered. That is how auspicious and connected to our culture sweets are.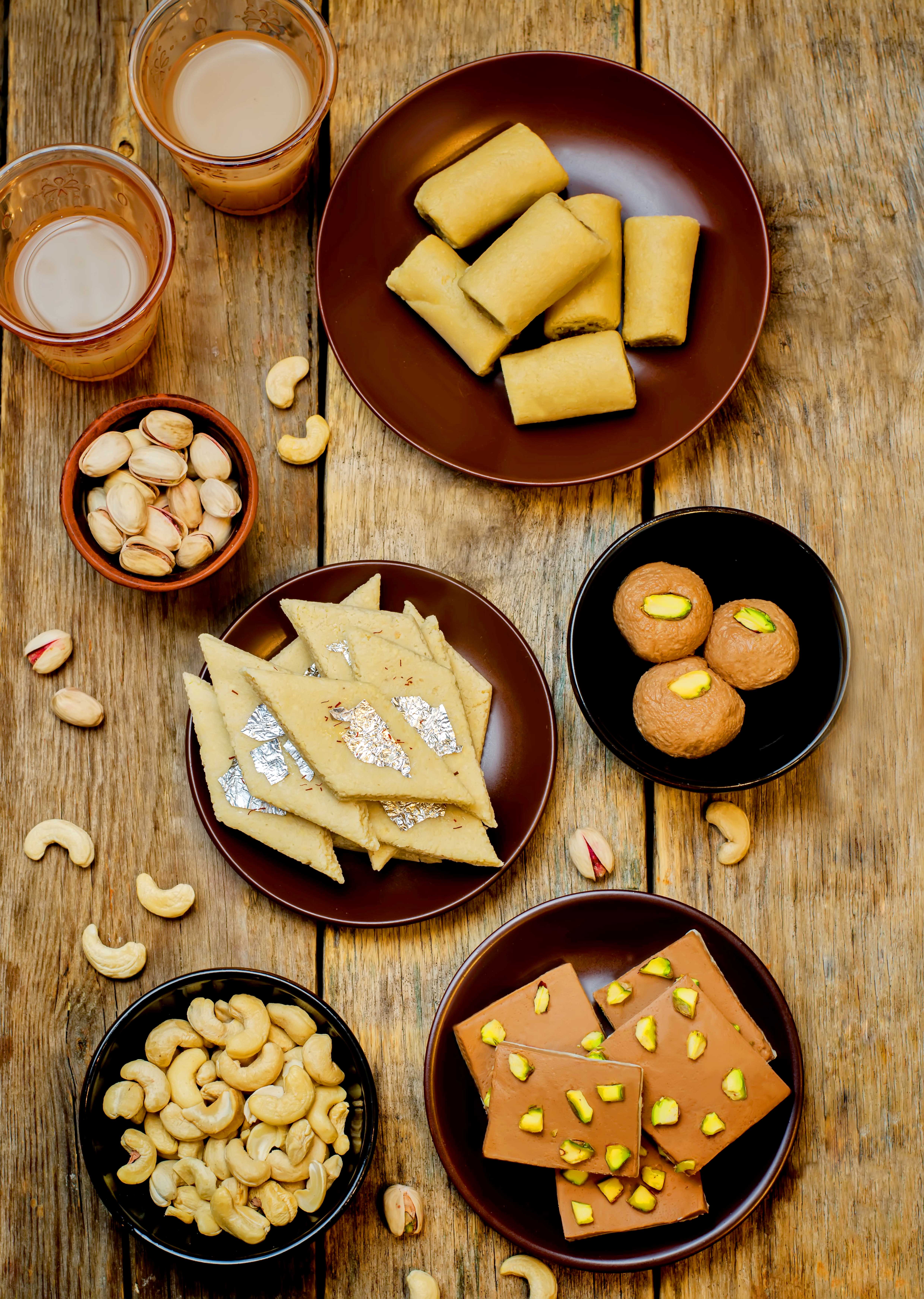 Made with colourful native ingredients such as gram flour, coconut, saffron, jaggery and even thick condensed milk, these sweets have unique flavours. From syrupy rasgullas of Bengal to the caramelised goodness of jaggery in the South Indian Mysore pak, there is something for everyone. Some sweets are even coated in edible silver leaf called vark for visual appeal. All these sweets come in different sizes, shapes and textures, but they all share one thing in common: they are sure to make your mouth water!
Mysore Pak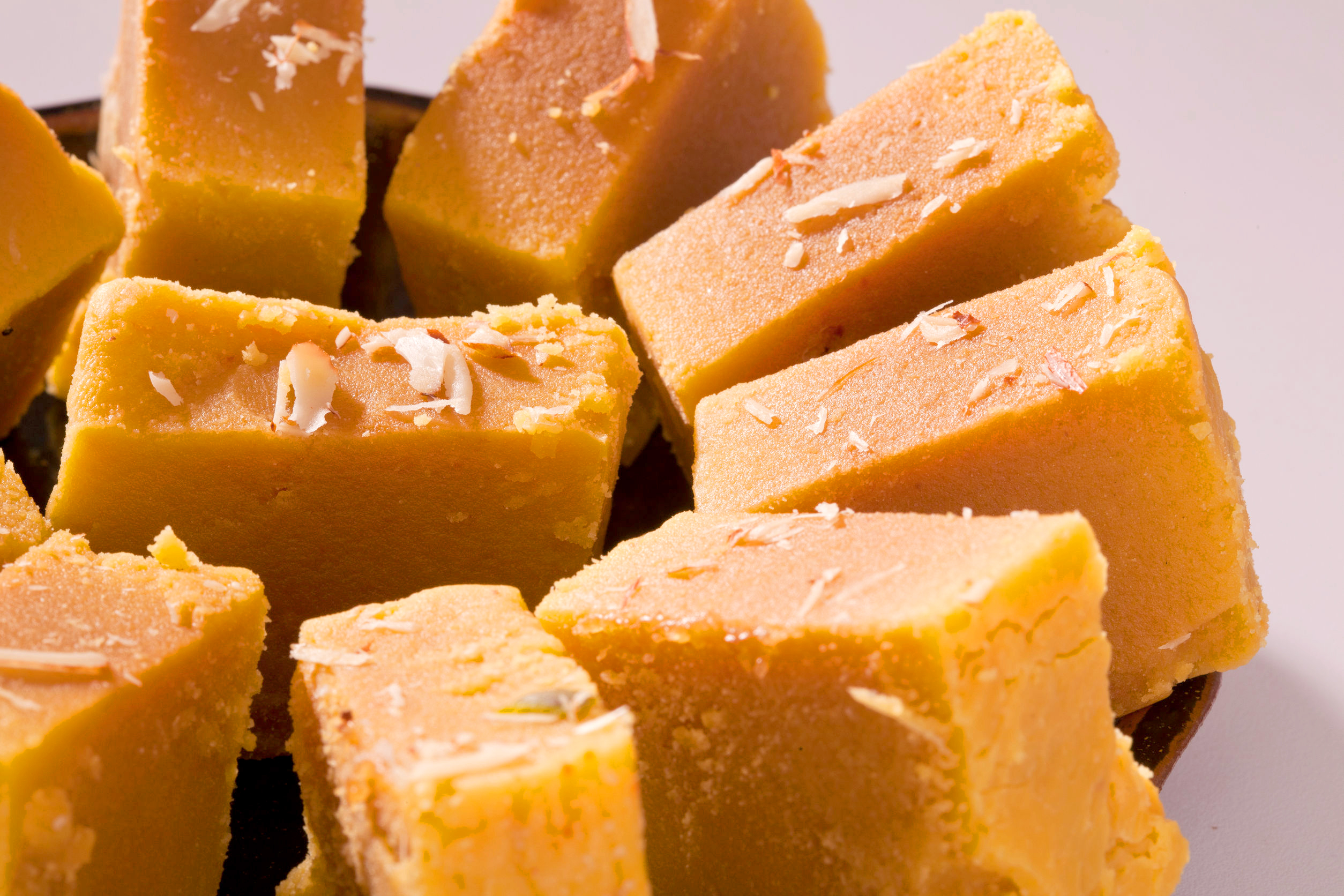 Mysore pak had its origins in Mysore, Karnataka. Legend has it that in Mysore Palace, the king's cook named Kakasura Madappa invented this dish many moons ago. When asked what it was called, Madappa could not think of a name, so he called it Mysuru pak (pak means sweet). Made from ghee, sugar, gram flour and cardamom, Mysore pak has a hard, fudge-like texture. It is commonly found at weddings and festivals in South India. Mysore pak has a variant called Mysurpa. While the former has a harder texture, Mysurpa is soft and creamy. Invented by N. K. Mahadeva Iyer, the considerable difference in texture is the result of a secret technique of stirring the mixture. This secret is guarded by Sri Krishna Sweets, the only manufacturer of Mysurpa because Iyer was the company's founder. A tonne of Mysurpa is made at Sri Krishna Sweets a day! Mysore pak is found at most major sweet stores, while Mysurpa is only available at Sri Krishna Sweets outlets. Try both to see which you prefer!
Laddu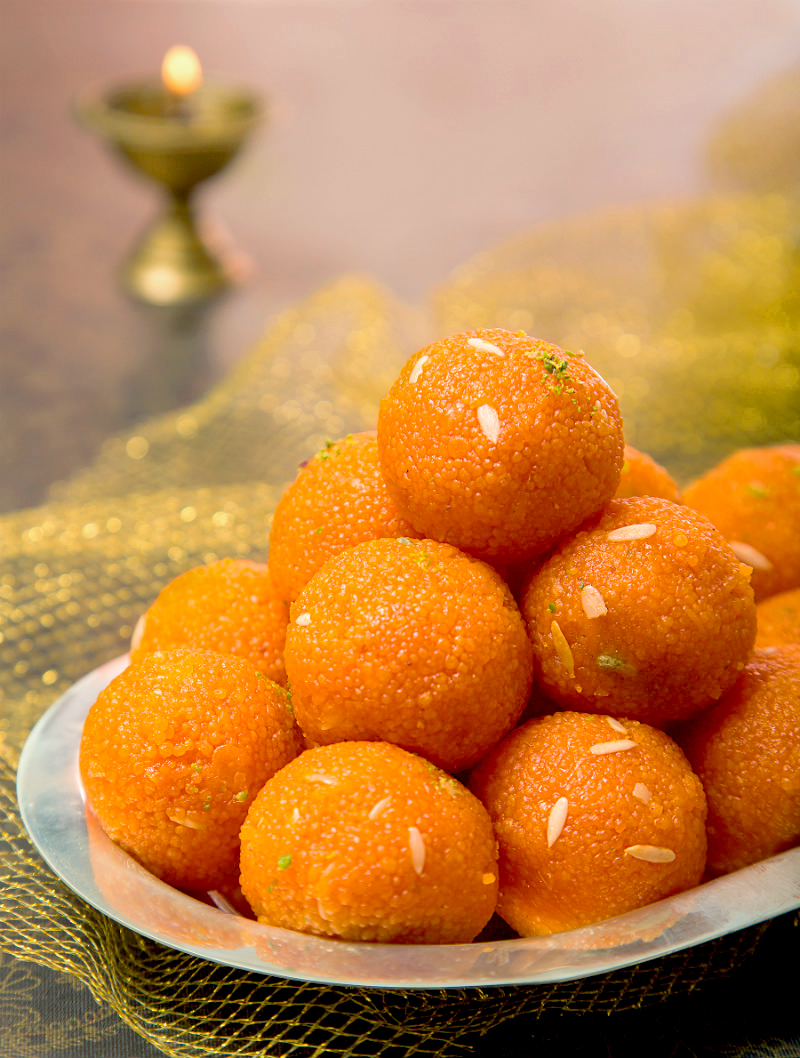 Laddu is a round sweet made of semolina or gram/chickpea or coconut flour which is made into a dough along with sugar and almonds or pistachios. The dough is rolled into balls and then cooked in ghee. Laddus have been distributed from the temple in Tirupati, a popular Hindu pilgrimage site, since 1715! There are many types of laddus. Some include raisins, fenugreek or grains that improve health. According to Ayurveda, in 4 B.C., a surgeon named Sushruta the Elder gave his patients medicine stuffed into laddus so it would be more pleasant to eat.
Boondi laddus are made of boondi or sweetened bead-like drops of chickpea flour, which are fried and rolled into laddus. These laddus are eaten during Raksha Bandhan and Diwali. While they originated in North India, they are now eaten everywhere. Motichoor laddus, as shown in the photo, are made of finer boondi. Besan laddus are made of chickpea/gram flour roasted in ghee and then coated in sugar. These have a long shelf life and are generally made during religious festivals. Malai laddus are made of khoa, a form of milk solid, and are commonly called pedha. Laddus are available at any major sweetshop.
Rasgulla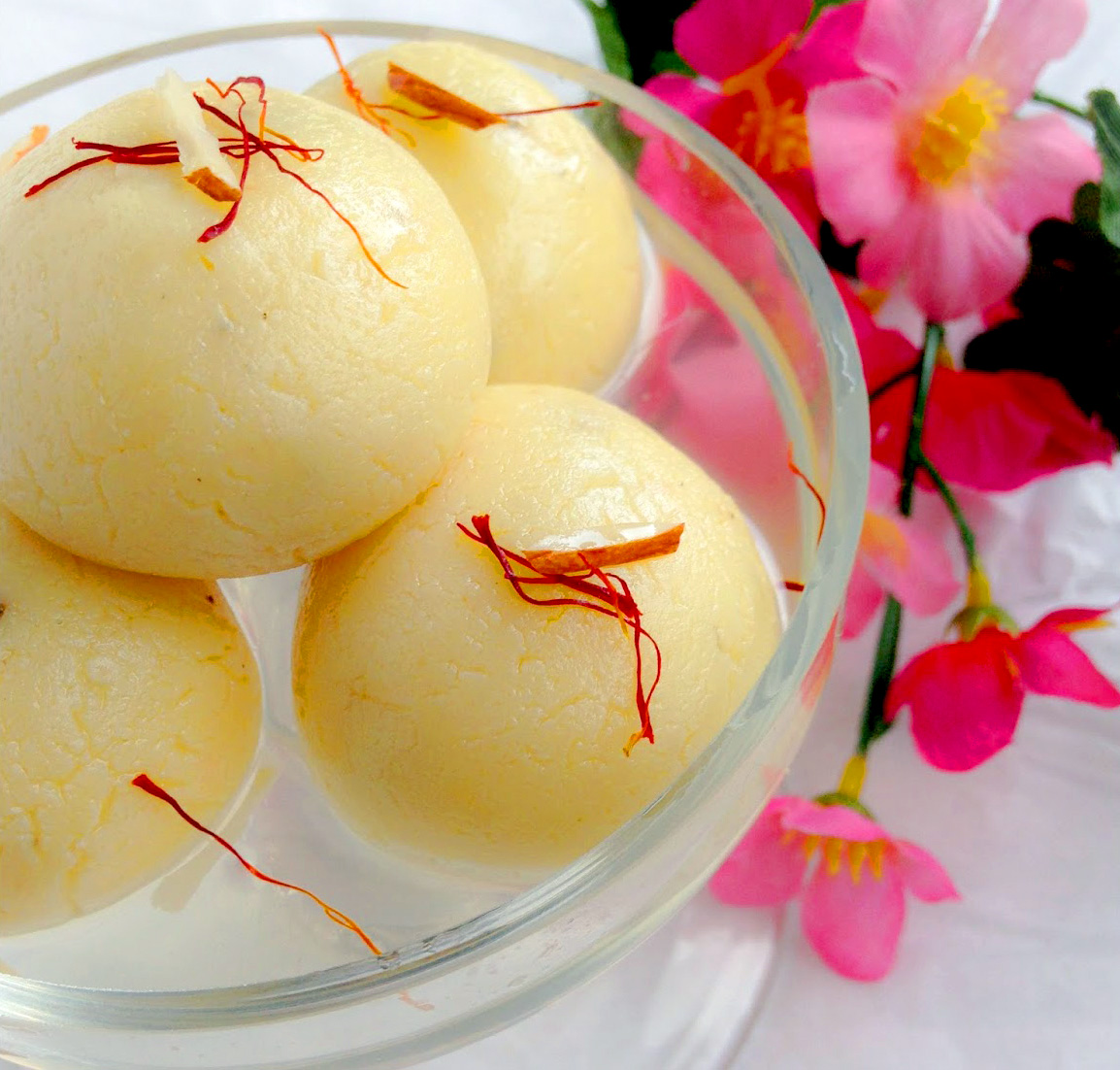 Rasgulla is light on the stomach. Made of chhena, a form of cottage cheese, and semolina dough, the balls are cooked in sugar syrup until the latter diffuses through the cheese. Rasgulla literally means "juice ball". The states of West Bengal and Odisha have been fighting for GI (geographical indication) protection of the sweet; however, research shows that it originated in Odisha and that the West Bengali sweet is only a variation. According to legend, in Odisha, Goddess Lakshmi was offered rasgulla by her husband to soothe her anger. In West Bengal, N. C. Das of Kokata made a variant with different ratios of ingredients to ensure longer shelf life in the 19th century. This variant was commercialised and is readily available today.
Gulab Jamun
Gulab jamun has deep roots in Indian history. It was brought to India in medieval times by Turkic invaders, and was derived from a Persian dish. In Persian, gol means flower and ab means water. In Hindi, jamun means fruit. It is made of khoa which is deep-fried and then garnished with dry nuts. This sweet comes with chashni, a sugar syrup flavoured with rose water. Chashni is the Persian word for taste as it enhances the flavour of the dish. Gulab jamun is eaten during festivals such as Eid and Diwali and is served at wedding feasts. It is found in any major sweet store.
Soan Papdi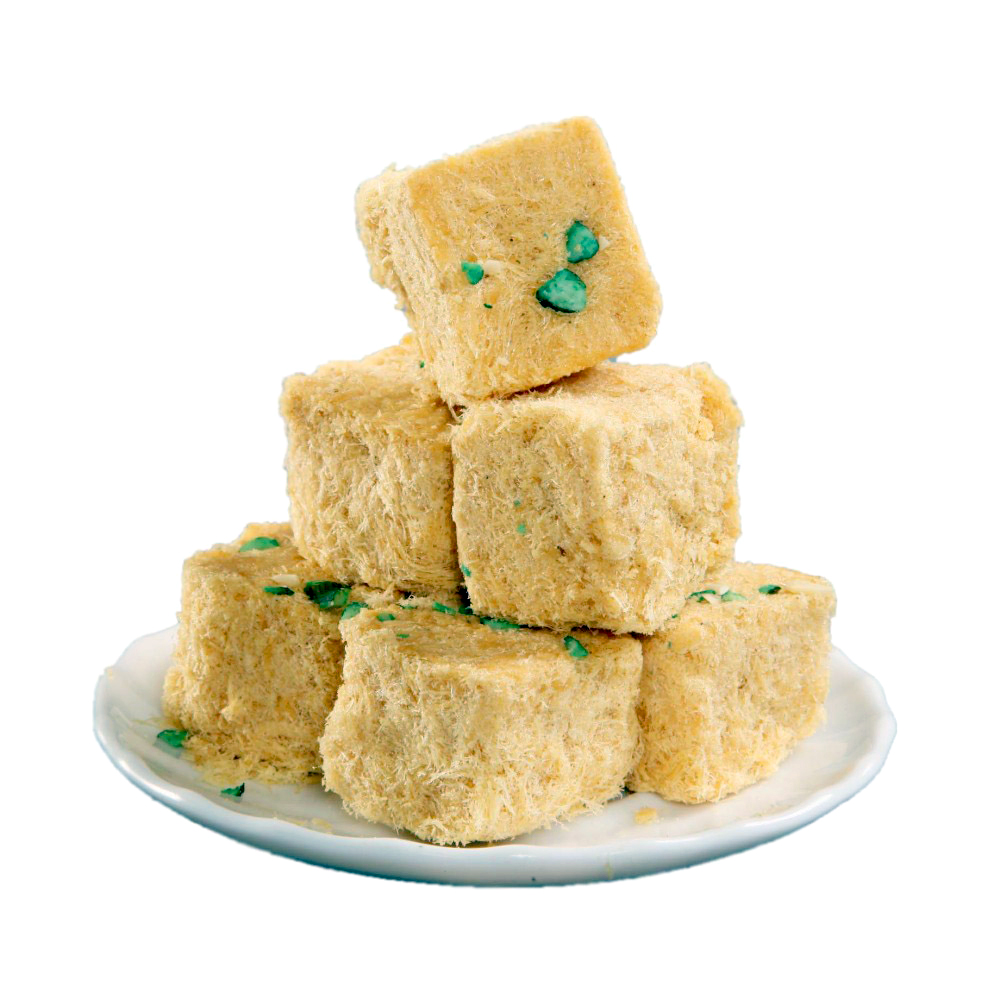 Soan papdi is a cube-shaped, flaky and crisp sweet made of sugar, gram/chickpea flour, ghee, milk and cardamom that actually melts in your mouth. It originated among the states of Punjab, Uttar Pradesh, West Bengal and Rajasthan. Soan papdi is harder to find in sweetshops, but is readily available pre-packaged by brands such as Haldiram's.
 Jalebi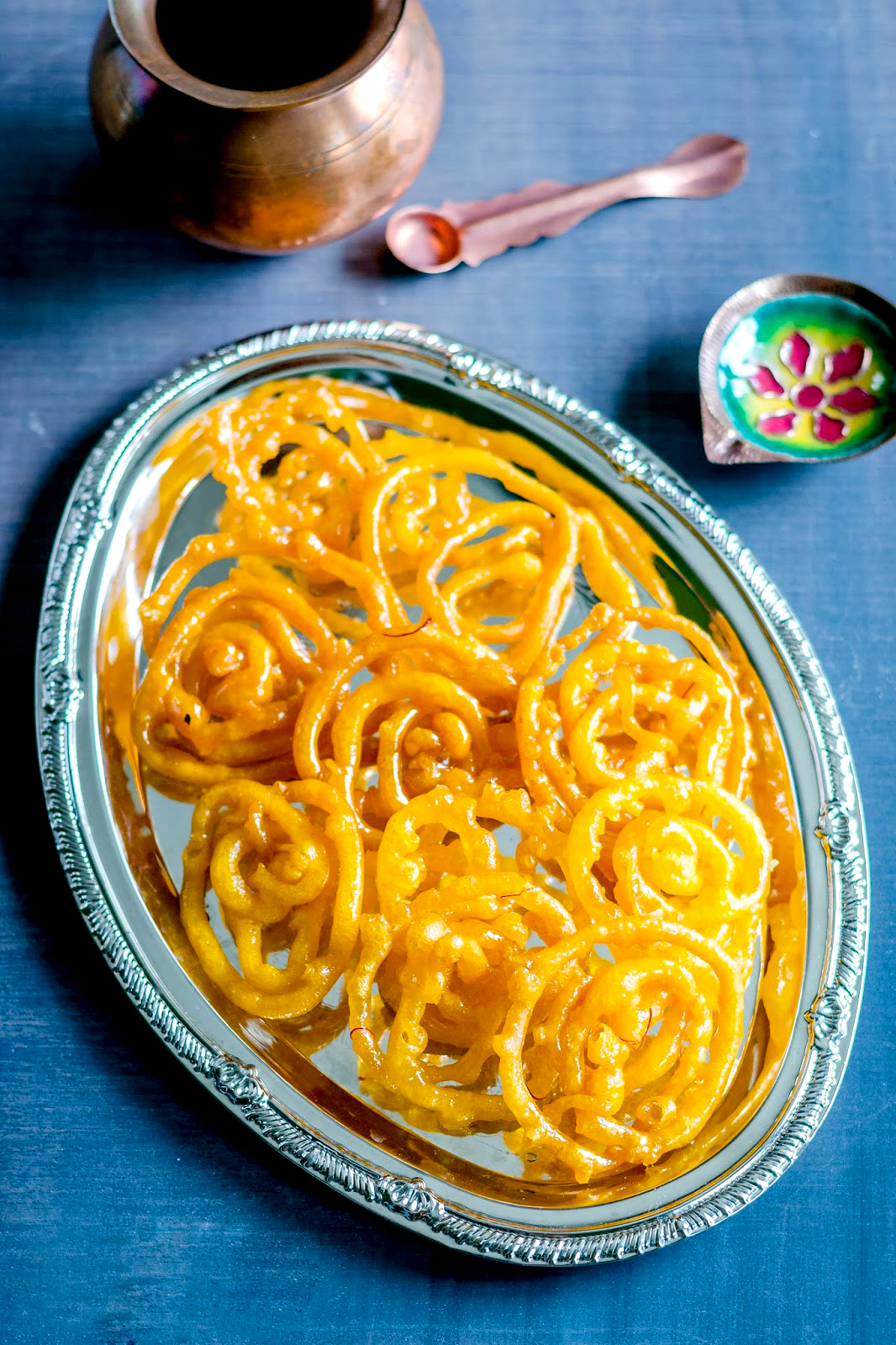 Jalebi is a truly unique Indian sweet. It is made of maida, plain or all-purpose flour, which is deep-fried, and then soaked in syrup with saffron to add colour and flavour. The sugar coating gives the sweet a crunch, but inside it is chewy. It can be served either hot or cold, and is typically eaten with rabdi, a sweet condensed milk dish. Both Hollywood and Bollywood pop culture reference this dish. It has been featured in many Bollywood numbers such as "Afghan Jalebi" from Phantom, and has been referenced in the 2016 film Lion as well.