Short cultural snippets for an easily digestible India
Art/textile/craft
Marionette-style puppets made by the Nat Bhat caste in Rajasthan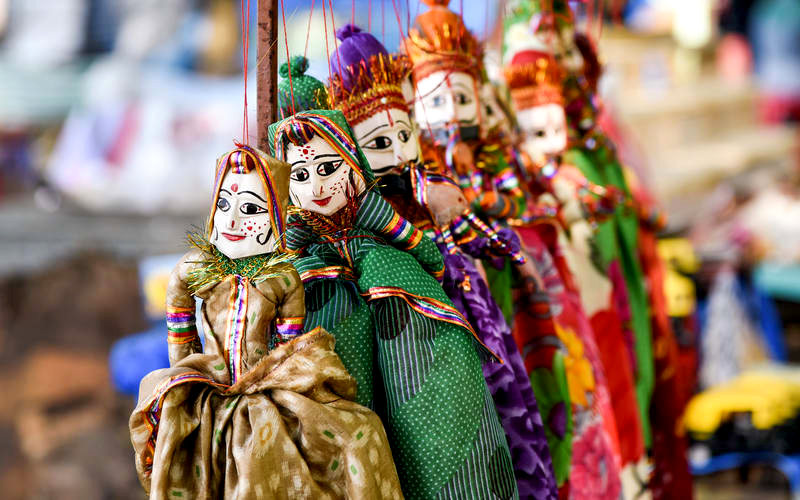 Puppet shows have existed in Rajasthan for centuries. Called kathputli (kath meaning 'wood' and putli meaning 'doll'), puppet theatre took place at village fairs and religious festivals, relating folk tales of Rajasthani heroes. The shows were taken from village to village by the nomadic Bhat community, who also carved and painted the marionette-style puppets. The painted heads are made of mango wood, fixed to a thin wooden torso that was dressed in brightly coloured, decorative clothing. The puppets have no legs, but the arms, made of cloth or wood, are articulated at the elbow and wrist, and move freely. The strings are attached to the puppet's waist and head, and connected to a loop that is manipulated at speed by the puppeteer. The cast of puppet characters is large: Rajput courtiers with moustaches, female dancers, musicians, jugglers, riders on horses and camels, and villains with pointed beards.
Words
Khallas/khalaas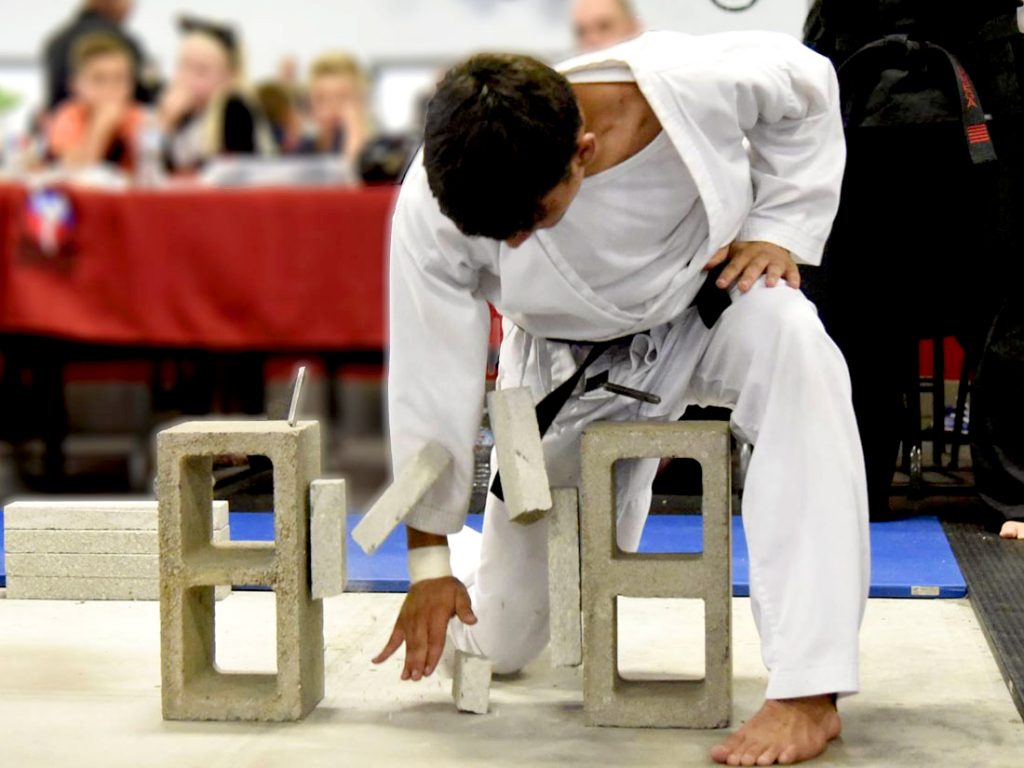 Khallas is a Marathi word that is used in Mumbai to mean 'finished', 'completed' or 'ended'. It suggests a limit has been reached, and can be used as an exclamation simply to mean 'Enough!' From Bollywood, it has made its way into spoken Hindi and Urdu, and can be used in many different situations. It seems particularly popular as a form of urban slang. Khallas kar de is gangster-speak meaning 'finish him off', and khallas is coupled with the word nusta in expressions such as 'The car in the accident was nusta khallas' meaning 'totalled' (damaged beyond repair) and 'His new shirt is nusta khallas'—a 'terrific design'.
Name
Nirmala Sitharaman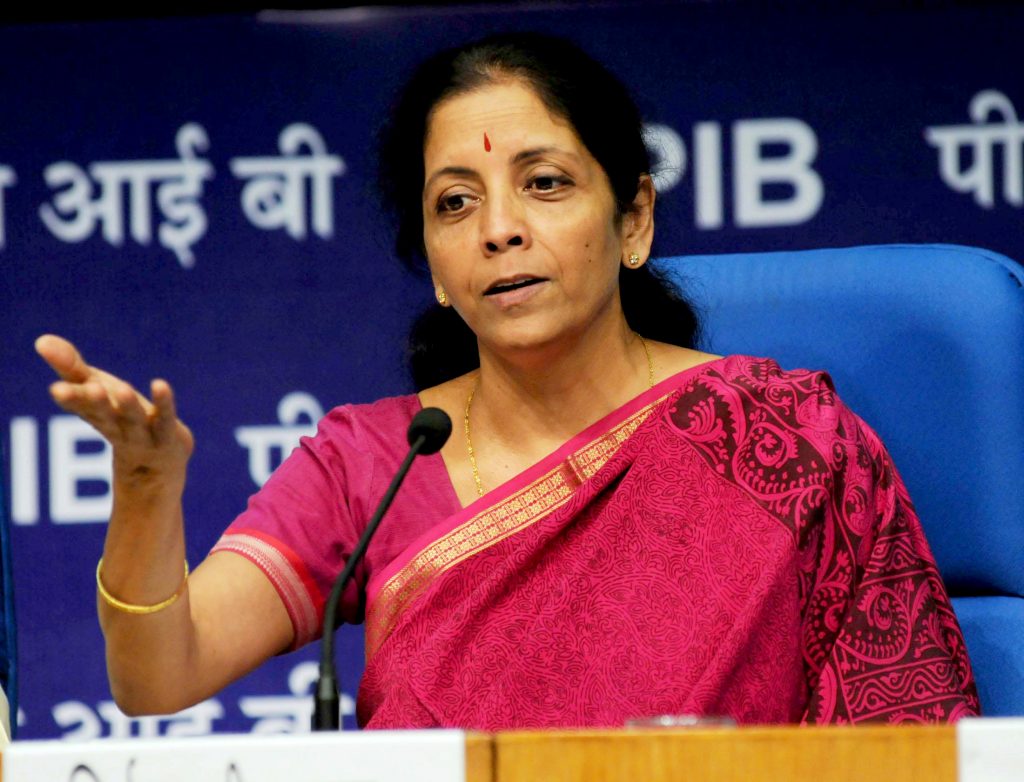 Nirmala Sitharaman is a BJP politician who has worked for the Ministries of Finance and Commerce in the current government and, in 2017, was appointed India's Defence Minister, only the second woman after Indira Gandhi to hold this post.
Sitharaman was born in Madurai, Tamil Nadu, in 1959. Her father worked for Indian Railways, and her mother was a homemaker who loved literature. The family prized education, and, although she attended several schools as her father's job took them around the state, Sitharaman excelled academically, graduating with a BA in economics, then studying for a Masters in Economics in Delhi where she had a particular interest in globalisation and its effect on developing economies. She lived in London for a period of time, working in a variety of roles from shop assistant to economist for the Agricultural Engineers Association, in research for the consultancy PWC, and compiling Tamil news broadcasts for the BBC World Service.
A campaigning stint during student union elections in Delhi had exposed Sitharaman to the world of politics. On her return to India, she was appointed to the National Commission for Women under the government of Atal Bihari Vajpayee, which she combined with founding a model school for underprivileged children in Hyderabad. Sitharaman joined the BJP in 2006, and was soon invited to join the National Executive Council. She made her mark as a party spokesman, then as a Minister for Commerce, dealing with trade issues with China. In 2016, she was elected to the Rajya Sabha, the Upper House of the Parliament of India.
Her climb up the political ladder has been quick and Sitharaman credits Prime Minister Narendra Modi's commitment to the empowerment of women. Her achievement reforming Foreign Direct Investment policy during her tenure at the Department of Industrial Policy and Promotion was significant and her surprise appointment to the major post of Defence Minister has been welcomed. Sitharaman is articulate, efficient and forthright in countering Opposition attacks.
A video of a relaxed Sitharaman interacting with Chinese soldiers at the Indo-Chinese border and introducing them to the greeting 'Namaste' has been widely shared: https://tinyurl.com/CulturamaSMS
Food and drink
Bonda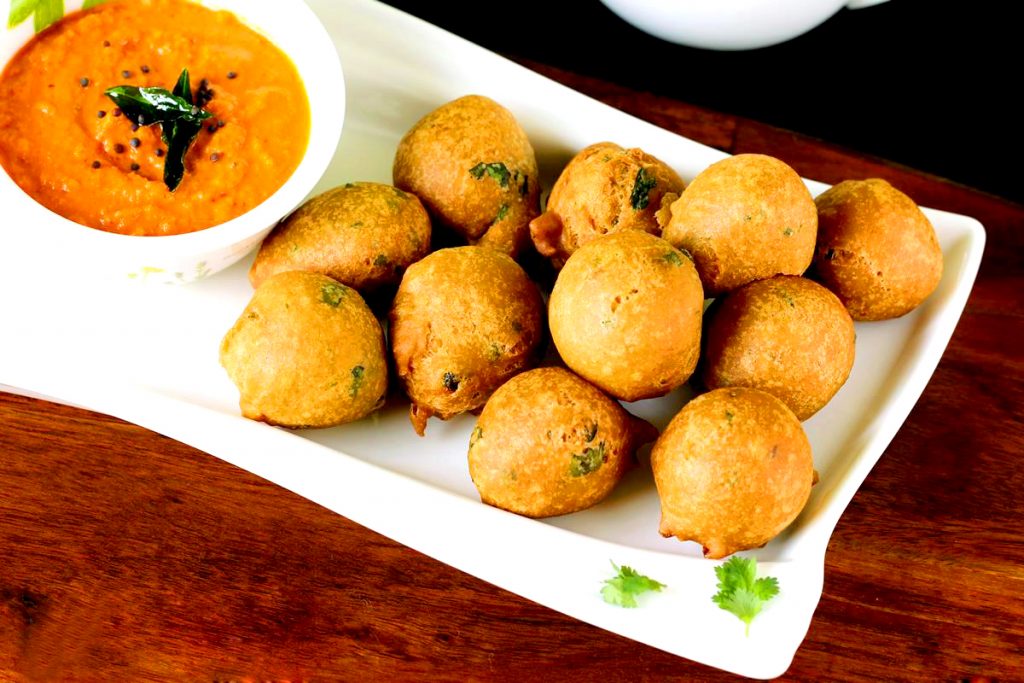 These deep-fried snacks are a regional favourite across South India and are particularly associated with the state of Karnataka where they were included in a compilation of foods written as early as the 12th century. There are many variations, but the simplest recipe is made by combining flour and baking soda with cumin seeds, ginger, green chilli, coriander and coconut, then adding yoghurt or buttermilk and water to form a batter. Small, dumpling-sized balls of the batter are dropped into oil and cooked gently to an even golden colour, crispy on the outside and fluffy inside. These are served with coriander, mint or coconut chutney as appetisers, or tea-time snacks. A popular version, aloo bonda, is made with mashed potato that is fried with onion, green chilli, turmeric, asafoetida and garlic paste then deep-fried in oil. In Kerala, sugiyan bondas are sweetened with jaggery and flavoured with cardamom.