Globetrotting Sonia and Ralph Hays love their home in Bandra, Mumbai, for its spaciousness and a gorgeous sea view. A tour by Team Culturama
As you walk down the road along the peninsula in Bandra, into a quiet dead end, there stands an apartment complex with large spaces for outdoor activities and spacious houses with large windows that take advantage of the sea view.As you walk down the road along the peninsula in Bandra, into a quiet dead end, there stands an apartment complex with large spaces for outdoor activities and spacious houses with large windows that take advantage of the sea view.Take the lift to the fifth floor to the house of Ralph Hays, Consul General and Trade Commissioner, New Zealand, and his Spanish wife Sonia. To reach the drawing room, you walk down a long corridor that is aesthetically decorated with art pieces. 'My husband calls this my "art gallery" because it holds quite a few important pieces of my art collection,' Sonia chuckles.The couple moved to Mumbai in 2017, and they saw around eleven properties during their first visit to Mumbai. This house took their breath away. It had the practical advantage of being close to Hays' workplace and the children's school. But it was also a happening place, with restaurants, cafes, supermarkets and all kinds of stores in the vicinity.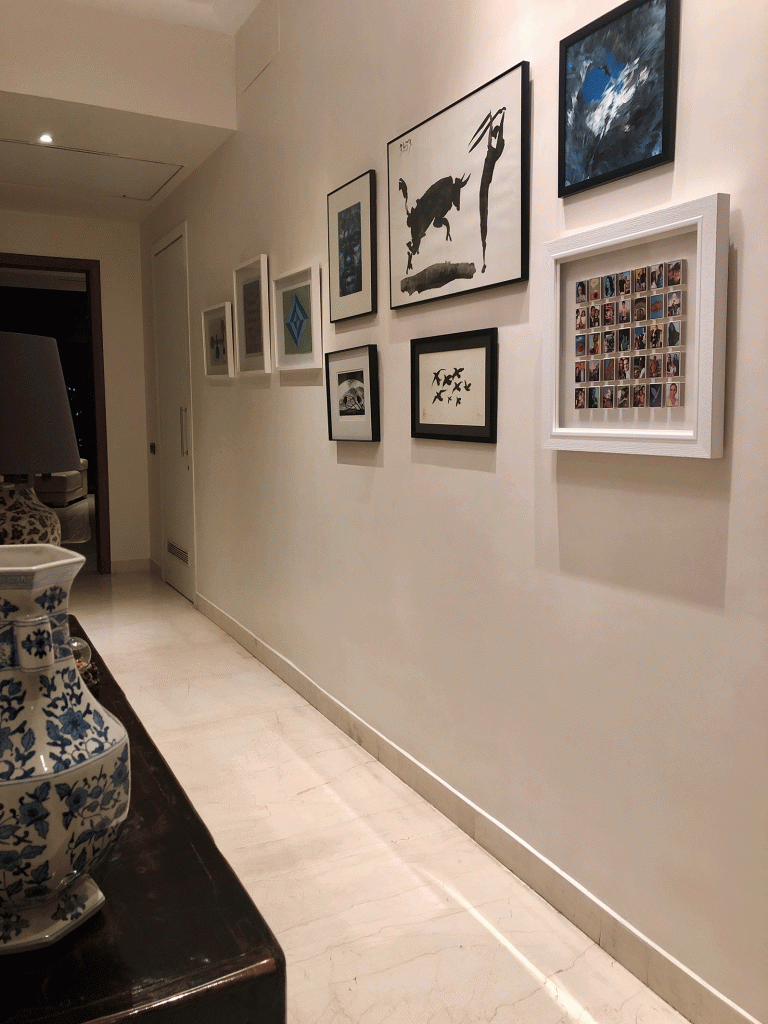 The apartment opens into a large dining/living that leads up to a balcony with a fabulous sea view that makes the place ideal for entertaining. It has four large en suite bedrooms and a family room. In addition to a large space around the apartment, it also has indoor facilities for the children, space for them to run around, a beautiful heated swimming pool and a well-equipped gym. The building has a deserved reputation in Mumbai, with 24-hour security and an on-call maintenance team amongst other advantages. Quiet for most part of the year, it gets a little hectic around the Mount Mary Festival in September. But this only lasts for a week, and it is worth seeing and living it.
Sprucing It Up
'The apartment was fully furnished when we arrived, with design touches of the architect and their interior designer. This is an advantage in many cases, but not for us,' reminisces Sonia. Since the family has moved around a lot, it has its own furniture and precious possessions that help create the feeling of home, whichever the country.  In the end, and for a level of convenience, they decided to keep some of the furniture pieces already in the apartment. 'For instance, my son's bedroom was kept exactly as it was as he had outgrown his previous bedroom furniture and he felt this room and its decoration were more age-appropriate,' she admits. The dining table and sideboard stayed, and so did the bed and side tables in the guest room as well as a few more bits and pieces. 'By adding our things into the mix, the result is an eclectic combination, which very well describes the way our family is.'
Personal Touch
Sonia loves interior design and enjoys the challenge of fitting their furniture in a new place. She takes enormous pride in allocating a space for every painting, photograph and art piece, as well as adding new objects to the mix.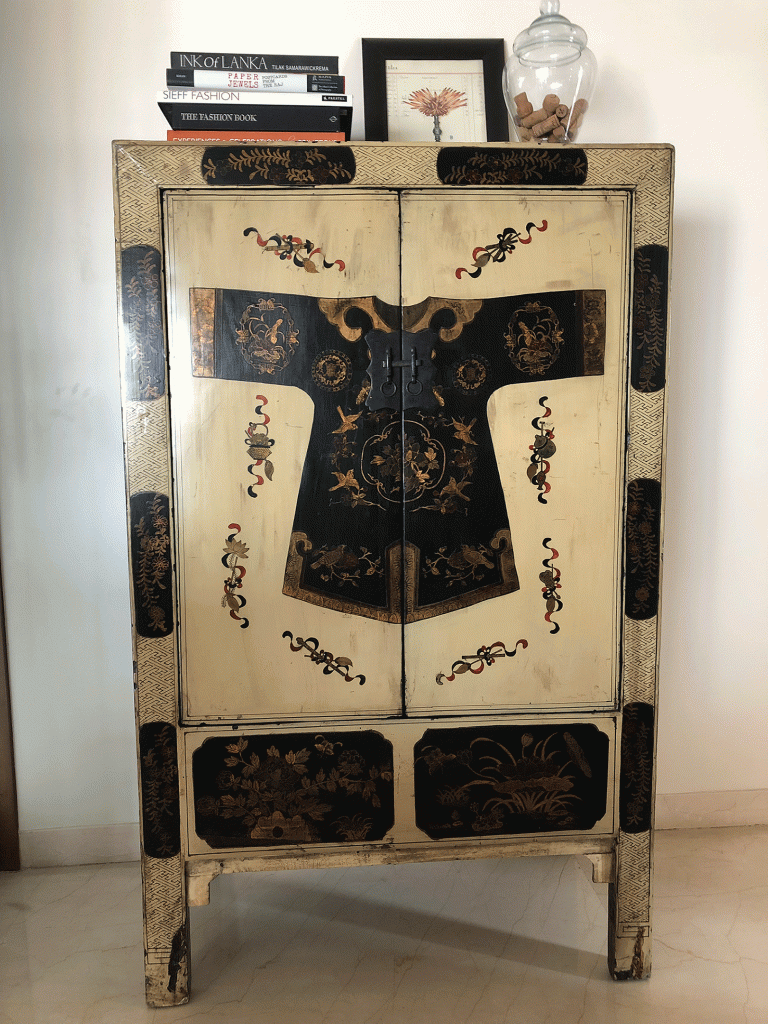 They own furniture and decorative objects from Asia and other parts of the world – art pieces and artefacts from Brazil, New Zealand, Australia, Spain and, now, India. Every piece has a fascinating story, almost like a personality of its own.  So much so that they have more interesting art than furniture.
One piece of furniture that is the centre of attention in their home is a beautiful, antique, hand-painted Chinese wardrobe, which serves as a liquor cabinet in the living room.
The other interesting feature that always stops visitors and guests is their 'Wall of Fame', which is a representation of their family tree through old photographs. 'Nothing after the 1950s is allowed to be part of this wall, the oldest being from the mid-1800, not long after photography was invented,' she says. What makes it fascinating for guests is to identify Sonia's ancestors from those on her husband's side. One of Sonia's first moves was to change the window curtains. 'That cost us a small fortune as the apartment has many large windows. And, of course, having worked in the fashion industry for many years, one tends to have an eye for expensive fabrics,' she says with a smile.
The Favourite Corner
The Favourite CornerThe family room is Sonia's favourite for many reasons. 'Firstly, our tribute to our ancestors and the best views,' she explains. Set high on a hill, it seems much higher than it is. The family enjoys sitting on the sofa with the curtains wide open, taking in the view.  The children love to run around and drive their bikes or scooters in the concrete area around the building. It's very safe as cars are not allowed to access this part of the property, and it's beautifully arranged with plants and tall coconut trees.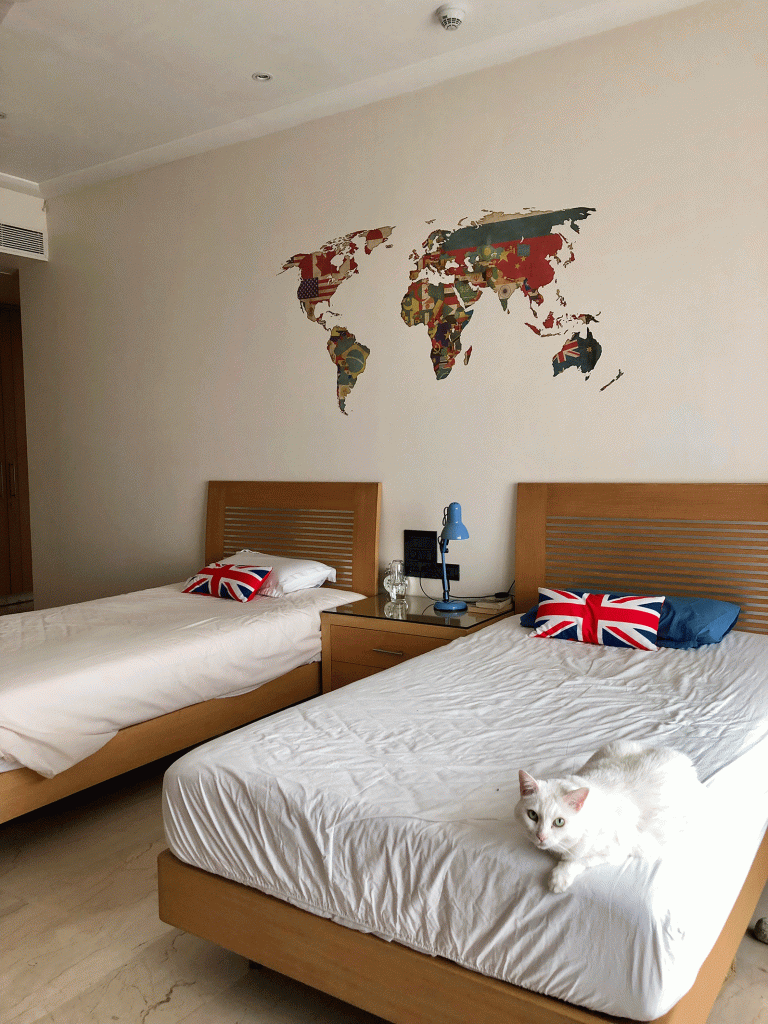 Shopping in India
Recently they got a beautiful brass and glass custom-made coffee table. 'I saw it at the manufacturer before taking delivery of it. It was fine, and looked gorgeous and stunning as I had imagined it to be,' she says with a gleam in her eye. However, the disappointment came when it was delivered and she got the chance to admire it from a distance. The table sat uneven; of course, this could have happened during transportation. It took a lot of time going back and forth with the manufacturer, who finally took the table away, and the family decided to do without it.
Dream Home
'My ideal home will be an independent house located in a city, that is, close to the action but in a residential area, possibly on a small hill or slope, so we can enjoy a view, preferably a sea view,' says Sonia. She likes houses with a bit of character, not ultra-modern concrete square walls but more of a combination of the old and new. 'A house with large windows, high ceilings, a lot of space for entertaining, and a garden with tall plants, trees and a swimming pool would be welcome,' she says with a winning smile.