Whether it is food, clothes, languages or religion, India has an abundance of it, and some more. But even with such diversity, at heart India stands united. Team Culturama goes through some age-old traditional practices that Indians follow, before starting something new
A new beginning is special and is considered auspicious in many communities across India. Each community has in place customary practices that have been followed for decades, if not centuries. From New Year's Day to harvest festivals, people come together to celebrate in their diverse and distinct styles. Here are a few of the ways that Indians celebrate a new beginning.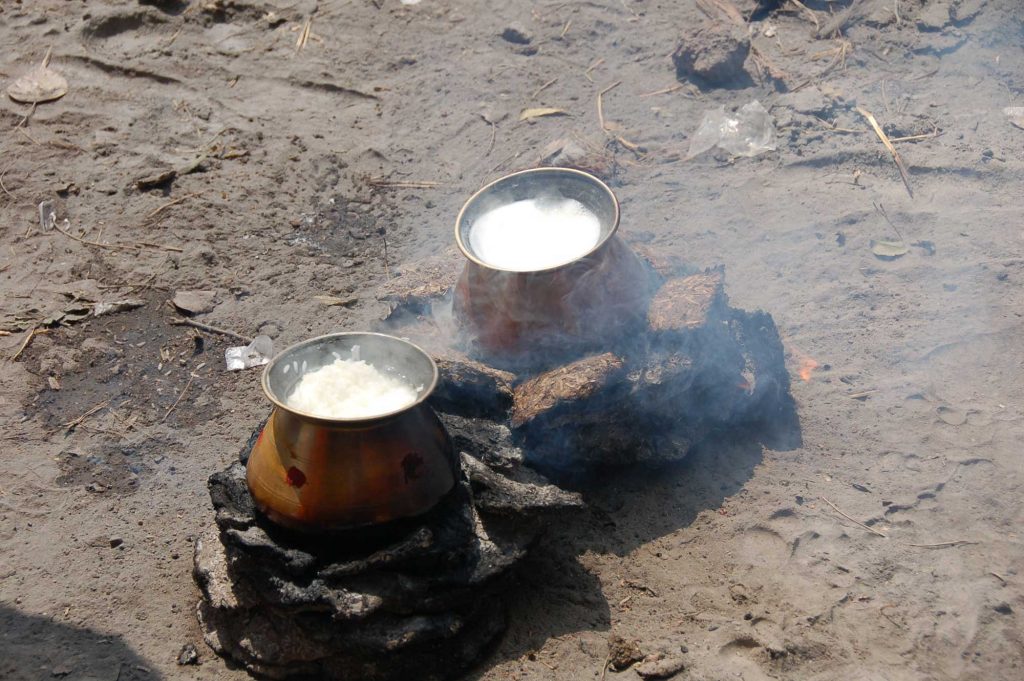 Food
No occasion, auspicious or otherwise, is complete without a delicious spread. For new beginnings, a ritualistic puja is performed in temples and prayers are offered to the Gods. Every household prepares special sweet dishes that are first offered to the God, and later distributed among family and friends. Sugar, milk and ghee are considered to be pure and thus used in making these sweets. In Gujarat, a teaspoon of yogurt mixed with sugar at the start of a ceremony is considered to bring good luck. Honey is also widely used for auspicious events. In Tamil Nadu, jaggery, rice and milk are used to make 'Pongal', to mark the start of their harvest festival.
Clothes
Wearing brand new clothes to celebrate new beginnings is a common practice throughout the country. In fact, elders in the house will buy clothes for the youngsters and vice versa to observe the occasion. In North India, for most events, men will opt for a crisp, tailor-made kurta. This attire may be simple, but its elegance makes the moment worth it. And what's more, it is perfect for all ages. Women, on the other hand, will opt for sari or salwar kameez with gold zari work. In South India, women lean towards the traditional pattu sari and men will mostly wear a silk shirt and white mundu.
Jewellery
For Indians, gold is more than a shiny metal. Historically, communities across India have been fascinated by gold for its beauty, charm and rarity. Today, India is one of the fastest growing consumers of gold. Gold in India is considered auspicious as well for ideal investment. It is an integral part of many ceremonies. In South India, for Akshaya Tritiya, people will make a beeline to buy new jewellery as it is considered auspicious to acquire gold on the day. In the North, for Dhanteras, people buy jewellery to bring good fortune. It is also the top gifting option for new beginnings such as weddings, birthdays, and so on.
Property
Many believe that investing in a property brings in prosperity. Since it is an investment that involves their life's savings, people use auspicious dates such as New Year, festivals and other personal milestones to seal the deal. In fact, builders in India make use of occasions such as Diwali, Akshaya Tritiya and New Year to announce special discounts, freebies and offers. For the housewarming ceremony, milk is boiled using new vessels and is presented to God in the hope of bringing in prosperity in their new house.
Lighting the lamp
In India, a lamp is associated with positivity and the path to dispel darkness. The lamp, in itself, is considered next to God for the same. Most Hindu homes across India will light a lamp at dawn and dusk, to mark the beginning and end of the day. It is also a part of every new beginning, whether it is a festival, an inauguration or a family affair. The agni or flame represents the source of knowledge. The oil or ghee used in the lamp symbolises negative tendencies that vanish slowly when the lamp is lit. The light is supposed to bring peace and tranquillity to the surroundings.
These traditions have stood the test of time and continue to be part of the everyday life of Indians. While one will come across unique customs from one state to the other, the core remains the same – to bring in positivity and harmony to the communities. This is after all what makes India so extraordinary from the rest of the world.