From enjoying the local cuisine to celebrating the diversity of India, Martina Musso and her beautiful family from Italy believe that India is a melting pot of culture. Team Culturama caught up with Martina to get acquainted about her life in India so far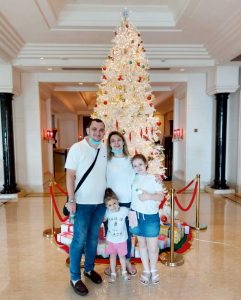 Your First Impression
Before I came to India, I had learnt a little bit about the country from my husband, Alberto's colleagues and from other Italian people who live here. They recommended places to visit, good neighbourhood houses for rent and the best shopping centres.
Expectation vs Reality
Like every new experience, I was scared at first. Especially the changes we have to go through for my daughters, like school, new friends, and so on. The beginning was not easy, but when we started to know people and learnt about the place, we felt more at home. Thanks to the help of new friends, we made it here. Step by step, we started to be more comfortable. Now I know a lot about the city. I have favourite restaurants and hang out with people who enrich our experience here in Chennai.
Food Adventures
Indian food was a wonderful (and yummy) discovery for us. I gifted to my husband an Indian cooking class and it was an amazing experience. The colours, the aromas and the taste of Indian food are totally different from our cuisine. Traditional Italian cuisine is standard in our home, but sometimes I prepare dishes from different countries, which now includes Indian as well.
Festivities in the Air
We had the opportunity to experience some beautiful weddings in Chennai. Seeing the importance given to people at the event made me and my family so proud of being part of this lovely community. Music, colourful clothes, flowers and food are the most remarkable things at these parties. I also participated in some Diwali parties and we enjoyed the experience thoroughly.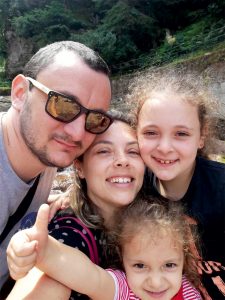 Entertainment Corner
Before the COVID pandemic, our life in Chennai was really comfortable. It was easy to move around during weekends, fun to plan a dinner or party with lots of friends, and much more. But after that, we decided to close our friendship circle to be sure we are safe and healthy. So, for now, our sources of entertainment are going to the beach with the kids on Saturday or Sunday or enjoying dinner with a few select friends.
Travelling Through India
Unfortunately, we didn't travel a lot around India. We travelled to Mumbai for 5 days and we loved it. Mumbai is a gorgeous city, with a perfect balance of modernity and history. We also visited Mahabalipuram and Auroville in Puducherry. There are several places on our list of places to visit, including the Taj Mahal in Agra, Goa and Kolkata.
A Change to Help
I wish India was a little cleaner. If the cities were tidier, we will appreciate the colours and the scents more.
Special Memory
Discovering Chennai at the beginning with my Italian friends (who arrived in the city at the same time) was a special memory for me. Another amazing memory was thanks to Global Adjustments, which give me the opportunity to meet a lot of people at the India Living Awards 2020. The special night with Indian dances and a fashion show was memorable. Thanks to fun rehearsals with other expat ladies, I have made many friends for life.
Souvenir from India
Whenever I go back to Italy, I take lots of Indian food and spices for my family and friends. I will forever remember the smiles and precious moments with all the Indian friends I made here.
Quick 5
Best Indian friend: Indu
Favourite Indian food: Biryani andvada
Favourite hang-out spot in India: Everywhere, seaside and nature
Intolerable India: The chaos of traffic
Loveable India: Colour, sounds and happiness