A home is the centre of our lives and a stable asset. Domestic and international investors are keen on newer, emerging cities with stable investment options, the potential for economic growth and a robust social infrastructure. Sowmya Putran takes a look at the top 10 cities of Tamil Nadu that real estate experts believe have ample potential
Chennai
Chennai seems to have circumvented the economic downturn that hit the country last year with a remarkable realty story. Affordable housing and ready-to-move-in homes, the primary trends, contributed largely to its stellar performance. With the growing influx of IT firms, and bigwigs like TCS and HCL setting up shop in the city, there is a growing demand for houses. Chennai is well connected to its peripheral locations through an extensive bus network, suburban trains, the MRTS, and the Chennai Metro Rail. Apart from the promise of quality life, Chennai is known for its close-knit community that makes it safe for residents. There are tremendous growth and value appreciation opportunities for real estate in Chennai.
Coimbatore
Coimbatore, fondly called the Manchester of South India, is fast emerging as a realty hotspot. The city is touted to be one of the top Tier-II cities for investments. Coimbatore is no longer merely a passive observer but a dominant participant in the real estate market. From plenty of water resources to an assured power supply, Coimbatore has them all. The city is also one of the most sought-after destinations for educational courses. Not just that, with the breathtaking hill station, Ooty, just 80 km away, Coimbatore peaks all charts in terms of livability.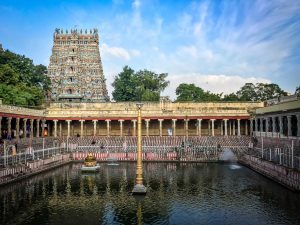 Madurai
Madurai is home to the Madurai-Tuticorin industrial corridor and the Vadapalanji IT SEZ. Upcoming job opportunities in industrial corridors have led to increasing housing demand. Besides that, Madurai's floating population and tourist population of about 77 million and 20 million, respectively, is a great opportunity in itself for the real estate segment.
Salem
Apart from being the defense corridor, Salem has the Chennai-Salem Expressway, Aerospace Park and other proposed IT developments. These make the city ideal for investments. Going forward, manufacturing, warehousing and mining are also being touted as the city's support systems. Employment generated within these sectors is expected to increase housing demand for mid-priced units. Fairlands, Yercaud Foothills, and Arisipalayam are among the city's best residential locations.
Thanjavur
The River Cauvery is the main source of cultivation in this city. Thanjavur, which is celebrated for its heritage in water management, bodes well with investors. The city, with its fertile soil, is one of the largest paddy cultivation areas in the country.
Dindigul
Sitting between the Palani and Sirumalai Hills, the stunning city of Dindigul has bare hills overlooking it and is a bed of fertile land apt for agriculture. Karur and Erode districts are its neighbours in the North, on its South lies Madurai. The city is popular for food, textiles and tannery. Wellness concerns due to the pandemic have pivoted the focus towards investments in cities like Dindigul, away from densely packed metros.
Vellore
Vellore is a prominent hub for medical tourism and education. The city's leather industry is highly popular, exporting a chunk of products. Other medium- and small-scale industries too are gaining momentum, and the future looks bright for Vellore in terms of infrastructural development.
Nagercoil
This historic place lies west of the Aramboli Gap in the Western Ghats. Nagercoil has long controlled the major routes between Chennai and Thiruvananthapuram. The city is a commercial centre with a rich agricultural area. Among its expanding industries are cotton and rice milling, motor repairing and the manufacture of rubber goods. Nagercoil is on the radar of investors due to reverse migration for spacious, independent homes.
Erode
Erode is a perfect blend of natural beauty and traditions, and the city is best known for turmeric cultivation and textile manufacturing. The city also boasts of plenty of water resources. Among them are Bhavani Kuduthurai, Kodiveri Dam, Chennimalai, Bhavanisagar Dam, Pariyur and Kodumudi.
Thoothukudi
Thoothukudi, one of the sea gateways of Tamil Nadu, is an energy and industrial hub, and is fondly called the 'Pearl City', famous as it is for pearl fishing. It is a commercial seaport and an industrial city, with a history dating back to the 6th century AD. Buyers are exploring the likes of cities such as Thoothukudi for bigger homes in greener, safer locations.